Texts and writings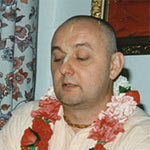 WHAT'S NEW…
1st April 2012: We would like to inform all disciples, well-wishers and friends of Suhotra Maharaja that his Tirobhava (disappearance day) is on Tuesday 10th April this year. As our godsister Abhaya Mudra dd explains: "It happens sometimes that a tithi will be missing from the calendar if it is too short and does not appear at sunrise. In our case most of panchami is on 10th of April although at sunrise is chaturti. So, we celebrate it on the 10th.""What will the year 2012 bring? Will there be some major calamity for mankind? What about the Mayan calendar? Should we devotees prepare for this?" If you are interested to know the Shastric viewpoint on this topic, then listen to Maharaja's lecture from 1997, where he addresses similar topic connected with the then upcoming year 2000 and the paranoia attached to it…The title isDon't Be Involved in War Prophecies
8th September 2011: There are several news. First of all, the Czech edition of Suhotra Maharaja's book Dimensions of Good & Evil has been published in June by the same crew as was Transcendental Personalism last year. If everything goes well, next year we should have Vedanta Psychology also.Second good news is that finally we have managed to publish Maharaja's gallery on Picasaweb. There are several hundreds of photos and still there are some more photos to be added. If anyone of you happens to have some photos which are not included there, please let us know.And finally, here is the Samadhi report by Kasya Prabhu: "After a long one year I returned to Sridhama Mayapur to be happy to do some service for Gurudeva's samadhi. As you can see on the pictures, his paraphernalia has got a bit weary, growing some fungus on it. I took a sand and water, and brushed it thoroughly, cleaned the inside of the samadhi, and oiled the cane and shoes so they can last longer. On the detailed photo of the tips of Guru Maharaja's wooden shoes you can find shallow depressions from his toes inprinted in the shoes.
One more story: the craftsman, who did the plaque with GM's portrait for his Samadhi, put it's picture on his car as an advertisement. Already before he said it was his best piece of work he has ever done. So now the people of Czech Republic have the mercy to see GM's picture travelling all over and thus be purified."
31st December 2010: Here is the report by Rupa Vilasa Prabhu from the celebration of Suhotra Maharaja's Vyasa Puja in Poland. "Choosing 21st of November as a date of Vyasa-puja was not accidental. It was a last day of Kartika and Vrindadevi's appearance day. And Bhakti Vidya Purna Maharaja gave us his blessing to proceed with Vyasa-puja on that day. Fire sacrifice was also done according to maharajas instructions. He also said that it was a very auspicious day and was very glad that Vyasa-puja would take place and gave to all the participants his blessings. Those words spoken by Bhakti Vidya Purna Maharaja confirmed to me on what position is our spiritual master and that what we do for him is appropriate." Photogallery here.We should mention that this year was published Bulgarian edition of Suhotra Maharaja's book Dimensions of Good & Evil. As Madhva Prabhu says: "About 20 Bulgarian devotees collected the laxmi for the print. It is translated as a service to GM by Irina Cherkelova for free. She is a nice devotee for many years. She is a proffesional translator and sister of our godbrother, the famous Bulgarian movie director Ishvareshvara Prabhu (Ivan Cherkelov). The cover design is done by Vasil Abajiev, another nice devotee. This print is 500 copies. ISBN 978-954-8523-12-7 Many already gone."
17th June 2010: Today the Czech edition of Suhotra Maharaja's bookTranscendental Personalism arrived from the printer. Certainly Maharaja's blessings are with all those who have worked hard to make it happen. The book is also available in our e-Shop.
17th May 2010: New photo in Samadhi (by Kasya das) – We placed new picture of our dear Guru Maharaja in Samadhi. That would not be anything special, but this one is. This picture is engraved in granite stone, and it will last another 1000 years at least. It was kindly approved and very much liked by Srila Bhakti Vidyapurna Maharaja. MORE
1st May 2010: There is a good news that after long waiting finally the reprint of Suhotra Maharaja's last book Vedanta Psychology is again available! You can order it in our e-SHOP.
31st March 2010: We would like to inform all disciples, well-wishers and friends of Suhotra Maharaja that his Tirobhava (disappearance day) is on Saturday 3rd April this year. We thank to Kasya Prabhu, who arranged for Samadhi doors to be final-touched (see the photo) and to Kusa Prabhu, who sponsored the work.
3rd December 2009: "The position of Suhotra Maharaja has raised some controversy in the ranks of ISKCON, both among his peers, his GBC fellows, as well as the next generation. Therefore we can understand that some may feel he belongs on the list published yesterday in the Sun, with the other fallen gurus of ISKCON. We will prove in this essay that those who would clump him with such fellows as adorn the list in question have totally failed to understand his motives or his sterling character. But are mahatmas easy to understand?" writes Adi Lila das in his article "Why Suhotra Maharaja Does Not Belong on the List of Fallen Gurus" which you may read in full here.
13th November 2009: We would like to inform all disciples, well-wishers and friends of Suhotra Maharaja that his Vyasa Puja day is on Thursday 19th November this year. Also we would like to thank wholeheartedly to HG Patita Pavana Prabhu for his nice articles gloryfying Maharaja which recently appeared on Dandavats.com (Suhotra Maharaja: Vaishnava Poet Extraordinaire – and few others).
15th May 2009: It is with great joy and a sense of relief that we can announce the successful completion of Guru Maharaja's Samadhi at Mayapur Gurukula! It was completed with a ceremony on the most auspicious day of Sri Nrsimha Caturdasi. MORE
Also we would like to announce the publishing of Czech edition ofSubstance & Shadow. Many thanks to all devotees involved in it's production! If you would like to help with publication of Maharaja's books (either in English or Czech language), you may send us donation HERE.
Another good news is that we have again in stock Suhotra Maharaja's booklets Apasampradayas and Sad Darsan. You may get them HERE.
3rd April 2009: We would like to inform you that Suhotra Maharaja's Tirobhava Mahotsava (disappearance day) is 14th April this year. Good news is that there is positive progress regarding the completing of Maharaja's Samadhi, which will be situated at Mayapur gurukula (Bhaktivedanta Academy). There were few months of delay, but now it got new push thanks to Tattvavada Prabhu. We are going to inform you as soon as we have more news. Hopefuly these news will be that the Samadhi is finished, which could be within few weeks. Please pray to Lord Krishna for quick completion!
Our website is now expanding. There is new section Stay High Forever & Bhajans, containing selection of Suhotra Maharaja's best bhajans and kirtans. In the section DOWNLOAD there are going to be now permanently available some audio and video files. Due to the time pressure we are unable to upload fresh lectures from time to time. Finally, after few years, we have managed to restore In2-MeC journal to its full version. Now it contains all articles and photos which were published between 2003-2005. And there is much more to come on our website, stay tuned…
There are 16 new texts (scanned files) written by Suhotra Maharaja from the German magazine "Wie Es Ist", which was published in the 80's, in the new sub-section "Die deutsche Bibliothek" . Thanks goes to Manidhara prabhu for supplying the materials and to Kasya prabhu for scanning it. Now we are looking for someone speaking German language who would help us with translation into English. Volunteers, pleasecontact us here. Thank you!
There are also new books and texts novailable in the LIBRARY. Down on the page are scanned all the nine Vyasa Puja books (years 1990-1998) containing homages to Suhotra Maharaja from his disciples. Also now available are: file containing all available Vyasa Puja homages of Suhotra Maharaja to Srila Prabhupada (1986-2004), Study guide for Teachings of Lord Caitanya and papers On Social Development.
18th July: "This highly elusive thing, pure devotional service, I want it. I want it so badly it creates and ache in me. It is becoming almost the only thing I can talk about and because of this I can see that people are thinking I have made advancement in Krishna consciousness. I wish I had." wrote Suhotra Maharaja already in 1993. "But then the question comes,"What about the fact that you read books by non devotees? What are you gaining from them? Why waste your precious time reading what they have to say, if they have nothing important to say?" "
The answer to this challenging question and a glimpse into Maharaja's reference library you will find in the new section BOOKWORM.
13th May – now with the help of the GOOGLE TRANSLATE (available athttp://www.google.com/language_tools) you may translate our whole site into 23 different languages. Although the translation is sometimes crude, still it is quite helpful for those who do not understand English.
12th December 2007: one of the four new books recently released by HH Danavir Maharaja is called "Bhu-Gola Tattva – Science of the Round Earth". It is dedicated to Srila Prabhupada and "his beloved disciple HG Suhotra dasa Tapovanacari". This book contains Suhotra Maharaja's 138 pages long investigation on traditional Gaudiya Cosmotheism. (It is almost the size of Vedanta Psychology book.) You may order the book here.
11th August 2007: With mixed feelings we have learnt about the glorious departure of HG Caitanyananda Prabhu from this world. Joyful from knowing he had such a wonderful leaving, but sad we have lost his association. Caitanyananda Prabhu was a disciple of HH Bhaktivikasa Swami and for years he was an admirer of Suhotra Maharaja. He helped him in various ways with publication of his books and his internet journal In2-MeC. MORE…
1st June 2007 – We have decided to use on our website the form of address as "Suhotra Maharaja". Why? The title Maharaja is not used only for sannyasis, but for sadhus (saintly persons) in general, no matter which asram they are in. In some parts of India you can also find that the title "Maharaja" is used as a polite addressing someone as "Sir".As was already previously explained, the title "Suhotra Prabhu" is not technically exact, as his proper name was Suhotra dasa Tapovanacari. This name he received in an initiation with fire yajna from his siksa guru HH Bhaktividya Purna Maharaja. It is a renunciate title, not sannyasa but "vairagi" or learned performer of austerities. He was not "Suhotra Prabhu " in the sense of being in brahmacari asrama, because brahmacari is in Vedic culture just a boy not older than 25 years old. He was TAPOvanacari, not just vanacari (vanaprastha), because he was never married. So our site is named Suhotraprabhu.com just for the practicality's sake, as it would be difficult to fit in his full name there. .



Last photo – 3rd April 2007

Last lecture of Suhotra Maharaja
listen online or download: part 1, part 2
(For successful download right-click on link and choose Save Target As…)
Suhotra Maharaja says his last good bye to us in his last lecture given at Tuesday, April 3rd: "I have a lot of work to do on the Srimad Bhagavatam, the only way I am able to really do this effectively and get a lot done is when I kind of just go on the marathon, so …This will be…the class goes on…untill the end of this month, April…and this will be the last time you see me. Classes after this will all be given by BVPM, because I will be writing. It has to be, because this is the best month for it, this is April, it's not too…yet too hot, and there is only one month left…So enjoy while you can, I am sorry, but time nears like a big python, swallows frogs, hours like frogs (laughing), so many destructions…OK."
Remembering Suhotra Maharaja
AC Bhaktivaibhava Swami: "I am convinced that the Lord granted him the eternal shelter of Srila Prabhupada's lotus feet. I am joining all of you in sharing my memories of him, and in showing my deep gratitude and humble respect to a person, who has sacrificed his life and his final breath in the service of our eternal lord and master, Srila Prabhupada."
Departure of Suhotra Maharaja
With heart full of pain I have to inform you about recent passing away of HG Suhotra das Tapovanacari from this world. His body was found on Monday 9th April in his room in Mayapur Gurukula.