Memories
from PhD. Kimmo Ketola
Mr Ketola is one of the most prominent scholars in Finland in the field of comparative religion.
Dear Tattvavada and all the other disciples of Maharaja, Thank you for inviting me and my deep compassion for Suhotra Maharaja's passing. Unfortunately I cannot arrive tomorrow to His memorial celebration.
Suhotra Maharaja was the first ISKCON swami I interviewed for my studies and I remember our first meeting very vividly. Later I met Him several times and had many interesting conversations. They gave me a lot, I feel that ISKCON's values: vast and deep understanding with warm and genuine theistic spiritualism were united in His person. I'm left with a very positive and warm impression of Him.
There is no doubt about Him having achieved His goal in life, but His passing is still a loss to His disciples and to everyone else, whom Krishna has somehow or other touched, as well.
Wishing all a rewarding celebration and everything good,
Kimmo Ketola
researcher
The Church Research Institute
P.O.Box 239, FI-33101 Tampere
---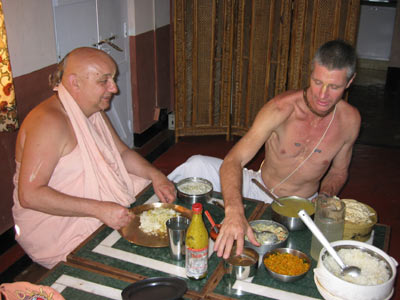 Homage to Suhotra Maharaja
(April 18th, 2007) Editor
This is Murari prabhu's homage, unedited. It was a very moving talk, and not a person was left with a dry eye in the temple room by the end. To provide a little background information, Murari prabhu is a long-term resident of Mayapur. Originally from a titled British family, he joined in Australia in the very early 80s, and soon moved to Mayapur. He has lived here since, is married to Bihasya devi, has 4 children, and lives in the nearby village of Taranpur (the village out the back of ISKCON's property), where he has unofficially looked after the villagers through thick and thin for many years. He holds nightly kirtans in his large house, feeds everyone whenever they need it, and houses the entire village–and their cows–during floods, as his house is large and built up high. No wonder Suhotra Maharaja liked him

Here's his full offering to Suhotra Maharaja:
I offer my humble obeisances to the lotus feet of Srila Prabhupada, the guide and shelter for all sincere devotees of Iskcon.
I offer my condolences to the disciples, family and friends of Suhotra Maharaja.
Suhotra ji was a very close friend of mine; so today I am both sad and happy.
I cannot speak about Suhotra Maharaja's activities as a member of the library party, nor about his many years serving in Europe with Harikesh Prabhu, nor his activities while serving as a GBC, nor even as a guru. Quite simply he was my friend.
My first remembrance of Suhotra Maharaja was when I took him on the back of my bike to Krishnagar FRO (Foreign Registration Office) sometime in the early 80s. It was typical of his style. He had very few pretensions and was always ready for a little adventure.
After his round house in the old gurukula acquired a new owner, I built a small thatched house for him in front of my house and he used to stay there during the festivals, sometimes extending his stay to a couple of months.
Every day I would serve him prasadam at my house, just the two of us, and it gave me a wonderful chance to discuss all manner of topics with him. His grasp of philosophy and the scope of his knowledge are already legendary in our society, and we would talk always as friends, despite the obvious differences in our status.
When I went through difficult times he, more than anyone else, offered me sympathy, practical advice and a philosophical view of the events. I would look forward every year to his arrival as he always brought a breath of new and fresh air to our home in Taranpur.
Suhotraji never nibbled at life, he took huge bites that would choke a person with weaker digestion. Some people think he was eccentric, but I don't think he was. He would move in a particular direction, in a particular way, but if he encountered resistance he would generally alter his course to avoid conflict. He was very sensitive, not in the false ego sense, but in the sense that he didn't want to be in company where he wasn't welcome, and he didn't want to be a part of something he was not happy with.
When he took varnaprastha, I don't remember what year it was, he opted to stay in his cottage in Taranpur. In his own words it was the darkest time of his life. He felt embarrassed, he had many self doubts, one time he said to me that he felt he didn't know any more than a new bhakta.
He tried to analyze what had gone wrong. At one time he felt it was due to his upbringing as a child in a military environment as his father was a master sergeant in the US military. Another time he felt he was in the wrong varna and that he was by nature a ksatriya. That sparked a series of martial arts classes at my house.
Another time he felt the society had veered from the course Prabhupada had set for it and he had been swept along with it. He felt very depressed at times because it was always his desire to do something wonderful for his beloved spiritual master and he didn't feel able to accomplish that.
Throughout the many months during this time that he spent at my house I saw him go through many changes, but some things never changed. He always remained true to ISKCON and Srila Prabhupada and he always remained submissive to the authority of the GBC.
As his depression diminished, he took up the work of writing a study guide for Srimad Bhagavatam in conjunction with his long time and true friend BVPS. Every day as his study progressed, over lunch he would discuss the new and profound insights he was discovering as his work proceeded. It was wonderful to see him recover.
He was once again animated and excited and he would talk for up to two hours at a time.
I would like to make a special mention here for the wonderful service my better half did in cooking and waiting patiently for those lunches to finish.
Being freed from his previous responsibilities he was happy simply as the humble servant of His Divine Grace AC Bhaktivedanta Swami Prabhupada. Some of you may know that his e-mail address was humserv@yahoo.com.
In time he moved out from his little cottage and into a custom made room at the gurukula, where he continued his work and began giving the classes that he had spent months preparing with BVPS.
Although he was no longer staying with us, he was still a regular guest; actually guest isn't the right word. A guest doesn't come at 9.30 at night asking if there is anything to eat because he hasn't eaten all day. Only a close friend would do that.
Although he was working at a prodigious rate on the Bhagavatam, Suhotraji still had a few other irons in the fire. He had started a novel, well, a fable in fact, to introduce newcomers to vedic culture, to the vedic concepts in a story form. There isn't time to go into the details of that suffice to say that it would have made Lord of the rings, Harry Potter and John Le Mesurier all look like Winnie the Pooh. This book required an immense amount of research, as it was essentially based upon fact.
He was working on a Bhagavad Gita course and a comparison of different texts, details I am not sure about.
He also felt very acutely the discomfort that been had forced on some of his friends by decisions of our society, and this upset him greatly, making it difficult for him to apply himself to his task in hand.
A few days before he left, he shelved all these things and announced that he was going to work purely and simply on The Srimad Bhagavatam, embarking on a marathon to the exclusion of everything else, even forgoing the classes he would give at the gurukula.
Having made this decision he was in very good spirits and confided with BVPS that he was completely content just doing this work.
It is my opinion that he had cleared all the final hurdles between himself and Krsna, and Krsna took him back immediately. I believe Prabhupada brought him here to Mahaprabhu's Dham to deal with his last obstacles; Mahaprabhu's mercy is inconceivable and unlimited. He stripped him of all position in the society freed him from any tinge of desire for name or fame, He offered him the Bhagavatam for shelter, and when Suhotraji passed all the tests, He rewarded him by taking him back to where we all belong.
I am very proud that Krsna gave me, along with many others, the opportunity and some ability to be a part of it.
All of Suhotra Maharaja's disciples should know that he cared very much for all of you, and wants only that you all become Krsna conscious and get out of this wretched material world.
Maybe that's a rosy picture and the truth wasn't like that at all. I don't really care; people can believe what they want.
It is alright to cry at the passing of your guru, but when the tears have dried, you can be happy and proud that you knew a unique, brilliant, faithful son of Srila Prabhupada, whose leaving has left the world a little less colourful.
He was one of my closest friends and I will miss him for the rest of my life.
Suhotraji ki jai!
---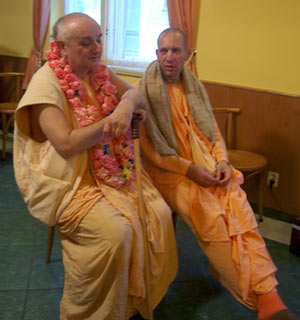 Letter from HH Bhaktivaibhava Swami
(11th April 2007)
Dear Devotees,
Please accept my humble obeisances. All glories to Srila Prabhupada!
I would like to share with all of you my great bereavement over the departure of Sriman Suhotra Prabhu. I was very much worried about his health when I met him this year in Sridham Mayapur, but I could not imagine that his health condition has been so severe that only a short time afterwards he would leave this world forever due to heart failure.
Sriman Suhotra Prabhu has shown to all of us that despite of all sorts of obstacles on our path of devotional service, we must stick to the process Srila Prabhupada has given us and not waver from our determination to progress in Krishna Consciousness by all cost. I belief that Sriman Suhotra Prabhu received the special mercy of Sri Caitanya Mahaprabhu and Srila Prabhupada.
In my previous traveling and preaching together with him in many countries, including Romania and Iceland, he expressed his heart's desire to please Srila Prabhupada in a special way in many different occasions. As an intellectual analysist and writer he was keen to present to the public Srila Prabhupada's teachings in various ways, and he never tired glorifying His Divine Grace under any circumstances.
I am convinced that the Lord granted him the eternal shelter of Srila Prabhupada's lotus feet. I am joining all of you in sharing my memories of him, and in showing my deep gratitude and humble respect to a person, who has sacrificed his life and his final breath in the service of our eternal lord and master, Srila Prabhupada. Although bereaved in feelings of separation, I am joyous that Sriman Suhotra Prabhu left this world under the most auspicious circumstances in Sridham Mayapur dham, holding his japa-mala in his hands.
Your humble servant,
AC. Bhaktivaibhava Swami
---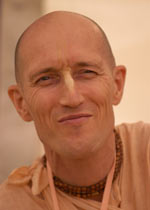 Bhaktivikasa Swami:
His passing was like his life — mysterious but ultimately glorious.
Bhakti Vikasa Swami on Suhotra Swami (Simhacalam 2007-05-01)
---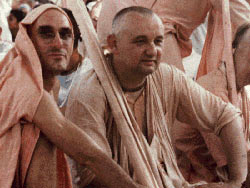 Bhaktividya Purna Swami:
(as remembered by Muniraja Prabhu): …he didn't have anything against being a guru in a traditional sense, but when it comes to answering all the matters completely unrelated to guru, which other people could answer, relatives, temple presidents, etc…
… basically he was an avadhuta. He didn't take this world very seriously, and he could not relate with a people who took it seriously.
… if you have a person who can work with Bhagavatam 3 days straight without eating or sleeping, it is not so clear which ashram he is in (in connection to the point that he was not a official sannyasi at a moment)
---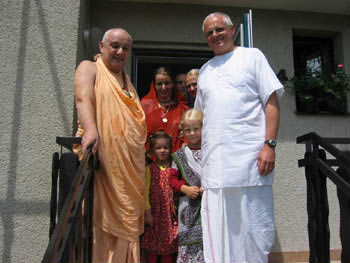 Manidhar Prabhu:
I believe it was 1976 when Suhotra Swami arrived from Switzerland in Germany. The following departure of Srila Prabhupada was for all of us great shock. In such times confusion spreads fast and in absence of such a powerful acharya all kinds of bad elements threaten to take over the scene.
It was then when Suhotra Swami very boldly and with to us until then unknown clarity established the guru parampara principle and explained to all of us who were rather new devotees the need to follow it. His lectures were already those days brilliant, deep and always up to date. During many years he saved our sankirtan again and again by pointing always the actual need at particular time. As maya tried to reach us from this side and that side he was always there warning, clarifying and putting us back on track.
Never partial and compromised by vanity and false ego, so common amongst genius people, he simply presented the sastric points spiced with latest news from the material world. The magazine he published is still until today unparalleled in ISKCON regarding wit and actuality it carried. Being an amazing writer, but free of self-centered intelectualism, he brought to us always deeper understanding so much needed for our passionate conditioning. Gladly we overlooked his time to time social flaws in relating to others. He was genius and always far ahead with his perception of upcoming attacks of maya.
Two weeks ago I had in Mayapur-dham Suhotra Maharaja as a guest for lunch. We didn't see much each other after he left Europe. I didn't know what to expect remembering that he indeed had to go through heavy challenges lately. In no time we were again on the same track we left, laughing and mocking maya's tricks. He was jolly and grave simultaneously. One of the last things he told me: "Manidhara Prabhu, these are very very dangerous times. We all have to stand firmly on save ground. "He told me he found his, daily diving into deep studies of Srimad Bhagavatam. The intensity and focus of his mind was indeed amazing and his institutionally uncompromised observations very refreshing. Being never a diplomat but a bold truth lover he naturally found not always favorable response. Not many knew while dealing with him that behind the sometimes seemingly hard bodily shell there was an extremely sensitive vaisnava. It took me quite few years to start to see how delicate person he was. I never met anybody with such a different outside and inside features.
I will very much miss him. Voices like his are very few and most valuable in these Kali yuga days full of quarrel and hypocrisy. I do now remember the story he once told in his class about one of our foremost acharyas: His body being carried after his departure to a funeral pyre, few mayavadis in the crowed made some offensive comment on our vaisnava siddhanta. There, in one moment, the departed acharya entered his body again, raised up and loudly defeated the present rascals. Then he peacefully departed again, leaving his body behind for cremation.
I do remember this story now. Even Suhotra Maharaja might have departed, he will raise again along with similar voices to strongly disagree with mundane hypocrites and opportunists. His lecture are there and his words are here for all those who don't want to surrender to mundane policies in name of Krsna-consciousness.
He was always absolutly loyal to Srila Prabhupada and honestly addressing his own nature. He always wanted to leave this world. Now finally his wish was fulfilled.
All glories to Suhotra Swami
---

Letter from Krishna-kripa Prabhu (13th April 2007)
Please accept my humble obeisances. All glories to Srila Prabhupada.
Suhotra Maharaja passed away recently in Mayapur, and there is an article about that on the Mayapur web site.
It was impressive to me that he left his body while completely absorbed in writing study guides on the Srimad-Bhagavatam in the holy dhama of Mayapur with his bead bag in his hand, exempt from the torture of prolonged illness that often precedes death. I think that Srila Prabhupada and Lord Caitanya must have especially blessed him for his contribution to their mission.
I did not know him intimately, having talked to him personally on but a couple of occasions. But I did hear many of his classes in 2006 on Srimad-Bhagavatam at the Bhaktivedanta Academy. He was always very much excited about his studies and his classes were insightful, full of interesting uncommonly known items, and often humorous as well. I want to share my notes on them with you as a way of glorifying him as a memorial tribute. They follow my signature below. I hope you find them beneficial.
All glories to Suhotra Maharaja, who dedicated his life to Srila Prabhupada's auspicious mission, and who left this world in the glorious Mayapur dhama.
Your servant,
Krishna-kripa das
( Notes from classes by Suhotra Maharaja )
---
Our glorious friend and inspiration, HG Suhotra Maharaja.
I wish to share some brief words in honor of our glorious friend and Godbrother, HG Suhotra Maharaja. I had the good fortune of gaining his valued friendship while we served together in the USA with the BBT Library Party in 1975-76. I was always happy to go on japa walks with him to be with such a jovial devotee friend, as well as to hear his deeply analytical viewpoints. I would often observe him walking about very seriously chanting his japa, while tightly carrying in his other hand one of Srila Prabhupada's Bhagavatams, like his "weapon of knowledge". His favorite verse then was from the C.C.: "I am servant of Lord Caitanya, a servant of Lord Caitanya, a servant of the servant of Lord Caitanya…". Also, during his discussions with the university professors, to convince them to also purchase the full set of Srila Parbhupada's books, he would often proudly tell them towards the end: "I have also become a follower of Sri Caitanya Mahaprabhu."
His deep exploration of Gaura-vani, which he so powerfully shared during his brilliant classes, has thus attracted the Lord's special mercy to allow him to peacefully depart in His Gaura Dhama. His lifetime of stalwart service to Sri Guru and Sri Gauranga has been a glorious example for all to emulate. Thank you my beloved friend Suhotra Maharaja for your sincere kindness and uplifting association.
Gratefully, Gokulananda das ACBSP, ISKCON Vancouver.
---
I only got to meet Suhotra Maharaja last year when I lived in Mayapura for 6 months. I regret that we had never met before. We both very much enjoyed each others company. I found him to be a very sensitive and articulate person with an extremely high intelligence. He was very learned in sastras and was up on many of the more archane branches of knowledge. But what I liked about him the most was that he was very loyal to Srila Prabhupada and his mission. He was a Prabhupada man — what more can I say to glorify him?
Your humble servant
Shyamasundara Dasa ACBSP (Vedic Astrologer) (USA)
---

Remembering Suhotra Maharaja
By Payonidhi das
First I like to offer my humble obaisences at the lotusfeet of Srila Prabhupada and all my siksa Gurus.
Then I will offer my obaisences to all devotees.
It is with fondness I remember Suhotra Maharaja, though I have had so many dealings with him in the past and if I would recall them all it would be far to entertaining.
I will pay my obaisences to his feet and remember all the sincere devotional service he has rendered to Srila Prabhupada . He was a staunch devotee for many years in Germany assisting Harikesa during those day millions of books where distributed in Germany.
I recall one marathon in december1993 where he was firing up all the devotees, and more than 60.000 Maha big books was distributed in this one month of December.
Later in 1997 I remember he was visiting the devotees in Denmark before the December marathon that is now known as the Prabhupada marathon. He gave a great class about surrender to Krona and gave the example how in the old wild west movies there is often the phrase, if you don't "vice up the will be curtains" Similarly if we don't surrender to Krsna fully there will be curtains for our spiritual life. Later he checked up with us sankirtana men again, and he was asking me about my day on sankirtana, I had met some nice family from Belgium that had bought some books.
Not long after that he became GBC for Belgium. I did not see much to Suhotra Maharaja until on some occasions in India, and I remember one occasion where I was in a dispute with some devotees over whether it was OK to rent the temple out to Indians for demigod worship etc., this was in Mayapur of 1996 he really appreciated that I was fighting for Srila Prabhupada to have a better standard. Suhotra Maharaja did much preaching in Europe and inspired many devotees there. He was preaching to priests, scholars also and interlectuals,he wrote many things about Krsna consciousness and did his utmost to serve Srila Prabhupada.When he joined I know he was on the library party with Satsvarupa Maharaja selling Srila Prabhupadas books to libraries. He loved Mayapur and spend much time there. Having left his body there I am sure he went straight to the abode of Lord Caitanya.
I saw Suhotra Maharaja just recently in Mayapure and he was in good KC spirit chanting powerfull rounds while circumbulating the Pancha tattva ,Lord Narasimhadeva and Radha Madhava. I will always remember him with affection. He was a very surrendered soul at the Lotus feet of Lord Narasimha. May Lord Narasimhadeva protect him and bring him safely to the lotus feet of Lord Caitanya.
---

I remember fondly a poem HG Suhotra Maharaja sent me in a personal letter sometimes in the middle of the 90's under a nickname "bhakta Hap Camper" which he was using as his second virtual identity in his internet preaching for some time. The poem read:
Strange ideas beget strange deeds
Doubts imagined become doubts believed
Of Krsna think and pray the taste
That ever you'll act within His grace
HG Suhotra Maharaja ki jaya!
Punya Palaka dasa
---
I remember with affection his gentle and kind personality, the erudite way of speaking to the people and his sweet voice while singing bhajans. In Romania where he also guided some persons on the spiritual path this qualities of his were also very inspiring. In Memoriam of him I would like to share with you this video showing him speaking on TV in Amsterdam.
www.youtube.com/watch?v=Q7UylZez0iA
posted by Harsi
---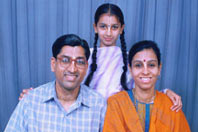 Letter from Anand Mohan Das and Vrndavanesvari Devi Dasi 17th April 2007
Dear devotees,
Please accept our humble obeisances. All glories to Srila Prabhupada!
We are disciples of His Holiness Gopala Krishna Goswami.
At the outset, we would like to convey our intense sorrow over the passing away of our dear siksha guru , fondly remembered by us as our dear Suhotra Maharaj. Maharaj has been and will continue to be a beacon light to us in our march forward on the path of Krishna consciousness after the departure of our only child Nandarani at the tender age of thirteen.
We take this opportunity to share with the entire Vaishnava community about our dearmost association with Suhotra Maharaj and the exemplary manner in which he provided succour to us in our moments of despair.
In the text that follows, you will be able to comprehend the intellectual insight of Maharaj when he glorifies our beloved Nandarani and also the manner in which he encourages us to forge ahead in Krishna consciousness.
Commencement of the text as appears in the'preface' to Nandarani's second memory book titled " Glories of Nandarani."
( The 'I' in the text refers to Anand Mohan Das )
I met H.H. Suhotra Svami for the first time on the 18th of April, 2003 in ISKCON, Juhu, Mumbai. I shared with him about the passing away of our beloved daughter Nandarani. I also gave him a copy of her memory book titled "Remembering Nandarani". Thereafter Suhotra Maharaja spoke to me, "I was not informed about the passing away of your daughter. However, there is an English saying that the one whom God loves the most, He takes first from this world. And I would say it applies here. I can see from this memory book that your daughter was sincere and a very advanced devotee of Krsna. And so Krsna, for His own reason, put her into this world and for His own reason took her back. I believe that reason is simply the love—that she came to this world to give love, and out of love for her, Krsna took her back. I thank you very much for the book. I will read it. However, I will be able to give my realization only after reading the book. Day after tomorrow, I am leaving Mumbai and I will be travelling for days and so it will take me time. I did not know your daughter before she left the body, so I will have to give this event of her passing away some consideration. I have a journal on the Internet and I am quite sure that I will reflect on this book in my journal. You had mentioned to me that for those who are not devotees, it will be difficult to understand how such an event can occur to a God conscious family. While certainly moving the heart emotionally, the story of your dear daughter, Nandarani is inspiring. I will take inspiration from this book and I will put my reflections in my journal which many devotees read around the world."
Later, I read out to H.H. Suhotra Maharaja, from Nandarani's memory book, her Vyasa-puja offering to her spiritual master H.H. Gopala Krsna Gosvami. Upon hearing the entire offering, he remarked, "The Vyasa-puja offering is extraordinary and your daughter is expressing complete selflessness. She is praying to her spiritual master for his health, welfare and preaching. She is praying for her parents. She is begging forgiveness for what she considers to have done wrong. She cannot really be wrong but she is feeling like that within her heart. And for herself, she is only asking very little things. Actually it is the duty of the disciples to pray for the mercy from the spiritual master but I have noted when you were reading her offering that she is asking so much for others and so small things for herself. She is an extraordinary selfless devotee." Later, I left the room very satisfied after such an encouraging maiden meet with H.H. Suhotra Maharaja.
The next day, i.e. 19th April, 2003 was Nandarani's fifteenth appearance day. We had invited her friends to the rooftop on the first floor of the ISKCON guest house for a gathering. It was 4.30 pm when I reached the ISKCON guest house and I saw H.H. Suhotra Svami rushing towards me and mentioning to me, "I have been looking out for you since morning and I have been contacting so many people over here to know about your whereabouts but of no avail. I am happy to see you now." After saying this, he handed a floppy to me mentioning, "Here is my realization after reading Nandarani's memory book cover to cover last night. For writing my realization, I sat on it for nearly three hours in one stretch this morning with my laptop and finished it. Actually, every morning I chant the Jagannatha asoakam for my personal deity, Sri Sri Jagannatha Sudarsana and the day I miss it, I fast. So, today I will be fasting since I spent all the time working on this realization." I invited Maharaja at 6.30 pm for reading his realization to all of Nandarani's friends at the evening gathering. And I was amazed by the coincidence that I was fortunate enough to have H.H. Suhotra Svami read his realization on Nandarani's fifteenth appearance day. It was a grand tribute to her.
Completion of the text
When we showed Suhotra Maharaja's realization to our spiritual master H.H. Gopala Krsna Gosvami, he was very happy and he wanted us to publish this offering. Hence, the first chapter of Nandarani's second memory book titled ' Glories of Nandarani" is dedicated to the realization of H.H. Suhotra Svami.
Dear devotees, Maharaj, as desired by him earlier, put his realization on the internet journal about the passing away of our beloved Nandarani. You can read it in his website www.suhotraprabhu.com under the title ' In2-MeC '- April 2003 – ISKCON, Juhu, Mumbai, 19th April 2003. You can hear Maharaja reading his offering here.
On this auspicious memorial day , we offer our pranams to our dearmost Suhotra Maharaj, undoubtedly an exalted Vaishnava in our ISKCON Society and we will ever reminisce the transcendental association he gave us on our fond Nandarani's 15th appearance day. We are sure that our dear Suhotra Maharaj, obtained the unalloyed mercy of Sri Chaitanya Mahaprabhu and has definitely gone home back to Godhead.
Hare Krsna!!!
Your humble servants,
Anand Mohan Das
Vrndavanesvari Devi Dasi
---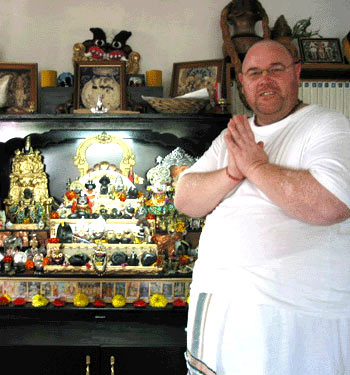 Jaya Tirtha Charan dasa (New Zealand)
I do think of Suhotra Maharaja a lot these days. His last visit here, he came to our house and took prasadam with us, and stayed a few days in our community here in New Zealand, I remember his kirtan, a few funny comments about how he loves to take prasadam with me but doesn't want to look like me (I am much fatter than him and was offering him more and more prasadam), I even remember him when I'm doing the puja for my Salagrams how he interacted with me as I showed him through the altar www.salagram.net/sstp-JTCd.html I had a dream when he was here too and gifted him a Salagram the next day. He gave a wonderful talk at our preaching centre in Tauranga also when here centred around the Midas touch story……yeah he spent a couple of days staying with Trivikram prabhu up in the hills before going off to Wellington and Christchurch. We went up to observe his Vyasa pujan with him in Auckland too, at Padmasambhava prabhu's house. All very nice memories indeed.
I can't remember the first time we met, but later met up on several occasions at BVPM's old Gurukul or at Atmatattwa prabhu's house. Then later when he came through Melbourne where I was head pujari for some years in the 1980s he stayed for about a week, but no one looked after him and he was just in his room after the morning program. After the second day I saw him and asked if he was getting prasadam okay and he admitted to me that no one had called him for prasadam for the last two days so he took it as Krishna not inviting him to take. I asked him if he was hungry and he said he was. I asked him what he'd like and he said cheesecake – "leave that with me, I'll be back" I said. I had some sent from Gopal's Restaurant in the van that I knew was about to return to the temple. Maharaj was in ecstasy. We seemed to hit it off from then on.
When he came to NZ back in the early 1990s he did a radio show with me on Access Radio 810 community Radio. It was my second radio show and I was so nervous. Another disciple was there with us in the studio and I confessed to maharaj that I was so nervous, to which he replied "you were so nervous baba you made me nervous". After the radio show he gave a class at Gopal's in Queen Street Auckland and a few of us drank ginger beer together after. Next day he was in fine story telling mood and told all vampire stories from Romania etc at Balabhadra's house in Auckland.
I only briefly bumped into him over the years after that, sometimes riding his bike in Mayapur with his danda rack on the back like an aerial…………but had quite regular interactions with him in swapping e-mails, which he said was like being in a chat room. This was during a period when I used to stay up most of the night and interact with different devotees all over the world and hardly sleep more than a couple of hours. He always used to send e-mails just after midnight NZ time sometimes from different parts of Europe or Russia. It was really nice, he'd ask me about yajnas and pujas and I'd ask him different philosophical questions, it was a wonderful friendship, which I sadly missed when he moved to Mayapur.
Anyway………
---
LETTER by Tapas das (10th April 2007)
Dear devotees and friends,
Please accept my humble obeisances. All glories to Srila Prabhupada.
I have received the very sad information that Suhotra prabhu has left us. Bursting out in tears I understand that my tears cannot call him back, and that makes me cry even more. I was not his initiated disciple, but now that he has left I become very much aware how much of a guru and friend he was to me. I owe him so much for being able to stay in Krishna consciousness over these years. He nourished me so nicely by his nectarian Krishna katha, and he removed so many of my demon-like doubts by his expert answers.
It brings me some relief that I was able to visit him last November in the Mayapur Gurukula, and we had a long discussion. He was so happy to see me and I was so happy to see him, and we embraced like good old friends. Fortunately I was able to do some service to him both then as well as later (through Tattvavada prabhu) by giving him some donations.
It is so difficult to accept that I cannot any longer see him – I had looked forward to come next winter to Mayapur to listen to his SB-lectures. He was so empowered to dig up the most rare jewels of Krishna from the holy scriptures, which is a symptom he had received the blessings of Lord Caitanya.
O transcendental miner, when will I see you again?
So sad, yet he could leave his body in Mayapur – how wonderful! I always felt that he was especially empowered to give the deep realization of the special mercy of Lord Caitanya.
y.s. Tapas d
COMMENT by Bhagadatta das
Dear Tapas Prabhu, PAMHO. AGTSP!
Thank you for your kind words prabhu. I am amazed at how wonderful a relationship you had with Maharaja. This is a proof that the real relationship comes through siksa and not diksa.
You are right, we will very much miss Suhotra Maharaja's intriguing and enlightening classes.
I met Maharaja last summer and the last words he said to me were, "Jai Nitai. Remember that whenever you look in the sky at night and when you see the moon you should remember the moonlike face of Nitai."
your servant,
Bhagadatta dasa
COMMENT by Tapas das
Thank you, Bhagadatta prabhu for your exact comment – yes, guru means siksha. When there is worship of the siksha by listening and following, then there is a guru/disciple relationship. And actually I can see that this relationship with him developed very much because I to a great deal worshipped the sound coming from his lotus mouth (guru mukha padma vakya cittete koriya aikya).
By his leaving, I understood that the relationship with him was more profound than I was aware of – because it was really a spiritual relationship by sravanam/kirtnanam.
Already tonight we will have a small memorial ceremony at Hare Krishna centre. Yogindra prabhu wanted it to be immediately – he also had a deep and sweet relationship with Suhotra prabhu. Suhotra prabhu loved his "kolas" (swedish caramel sweet) – he even made him make some of those in Salem, India. So we will offer those to him tonight.
y.s. Tapas d
---
Bhakti Visrambha Madhava Swami
My dear Godbrothers, Please accept my prayerful obeisances at your Lotus Feet. All glories to srila Prabhupada who is lovingly embracing you both into the loving Vraja seva of the Lord.
Radha Kunda dasa, you were convinced that the world needed more Hari Katha as a nourishment for the souls woes, Suhotra das Tapovanacari, you worked hard to give that nourishment in the form of Srimad Bhagavatam in Bhaktivedanta Academy in Mayapura.
Radha Kumda das, you remained effulgent and blissful even though your material body was wasting before all of our eyes. I last saw you March 22nd when I gave you some items I prayerfully hoped would allow you to remain a little longer. I noted, "prabhu, you look like death warmed over, like you aged 20 years in the last 6 weeks" "really…others say that I'm even more brigher then I was before.." He replied…
thus you taught me as I tried in vain to offer you some service to prolong your stay here. Daivi sakti mataji rightly mentioned, " why help him stay? Radha kunda has one leg in a samadhi let him go back to godhead, He's in the right place under the right kind of Love, He'll be happy, we however have to rot here for another 30-40 years" I'd like to add to her welll-wishes some of us in this world might end up staying longer, some a few births more…
Suhotra Prabhu,,,please accept my prayful thoughts, you used the elephant goad of your wit, when after seeing me for the first time in 15 years since you shaved me up in Denver Colorado May 28, 1973, in 1988 you joked with me on the railing of mayapura during the MIHE classes where you taught "teachings of Lord Caitanya" "OH you are still in this movement,"
(My mind jerked away,, how is that a way to love your god-brothers), yet you continued to purify with sarcasm.."oh well, it's best you stayed you'd be useless in the material world".. I was doubly set back, but As I reflected on your sour words, I realized you were 100& right.
I and all of Iskcon servants are not really meant for the material world, but Srila Prabhupada is forcing all of us to cleanse the mud of past and present conditioning so He may call us to Krsna Balarama's loving service.
Suhotra and Radha Kunda you both emphasised the diligent chanting of the Holy names. Suhotra ..my prayer and I hope that with every bite of the "road mode (avocado) sandwiches I used to make for you in the van in June 1974 on our 3 day usa cross country drive from san Francisco to Atlanta to see Radha Damodara and Vishnujana swami..you will bless me from your service point to increase my own dependancy on the Holy name and Iskcons network of loving devotee servitors who increase the taste for the same…
now the increasing departure of all of Srila Prabhupada's generals and foot soldiers shout out increasingly loud how we all have to leave a lasting legacy for the upcoming devotees in this mission..
Srila Tamal Krsna Maharaja once said, "before their departure we have to pray for them, but after their departure we have to pray to them"
that is a fitting way to remember each and every sweet soul that we were blest to know in Iskcon who enjoy the welcoming commitee party in Goloka, may by your grace we all get the taste for the Holy Names, Srimad Bhagavatam, Tulasi rani, and paramahamsa sadhu sanga incerasingly depend way so that we can too qualify to …see the same welcoming party,, until then Oh Godbrothers….push us on with the elephant goad of your sarcasm,,,,"Leave a legacy behind".