e-Shop on Suhotra Maharaja's website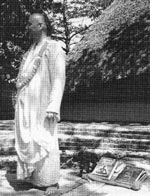 Suhotra Svami - české knihy Manage cart | Checkout
NOTES FOR ON-LINE SHOPPING:
All prices are without postage (if not mentioned otherwise). After choosing your items, put them in the shopping cart. Go to the MANAGE CART and finish your order by filling the form with your details and submit it. After we receive your order, we will calculate the postage according to your location and weight of the items. Then we will notify you about the total cost are you supposed to pay.
There are three options how to pay:
Please be sure to write your name either within the Message field (in case of PayPal) or in the Payment order (in case 2/). This makes it easy to identify your payment.

We will send you the items within two weeks after we receive your money.

Thank you, Hare Krishna!
your servant Vidyagati das ( contact )
---
Order items by Suhotra Maharaja here:
DIMENSIONS OF GOOD AND EVIL
The Moral Universe and Vaisnava Philosophy
Goodness, as defined in this book, is virtue. The word virtue indicates a healthy, wholesome and chaste relationship to the world, other living entities and one's own self. Perfect virtue is the soul's victory over the powers of matter, which threaten to delude the soul into identifying with the material body, its lusts and hatreds. This delusion is evil.
Drawing from the great Vaisnava tradition of Vedic knowledge, Suhotra Swami examines the attempts of western philosophy to address the problem of good and evil. He guides the reader out of his maze of speculation to the ultimate good of transcendental loving devotional service to the all-attractive Lord Sri Krsna.
ISBN 978-952-92-4922-0, 370 pages, Softbound, Price: 8 Euros + postage
Apasampradayas - Deviant Vaisnava Sects
Srila Bhaktivinoda Thakura identifies thirteen apasampradayas that split away from the Brahma-Madhva-Gaudiya Sampradaya after Lord Caitanya's disappearance: aula, baula, kartabhaja, neda, daravesa, sani, sahajiya, sakhi-bekhi, smarta, jati-gosani, ativadi, cudadhari and gauranga-nagari.
These apasampradayas (apa means deviated) are like parasitical growths upon the great tree of the sankirtana movement. Because they exhibit all the defects of material conditioning, they are spiritually useless. The rasa relished by such groups is termed prakrta-rasa by Srila Bhaktisiddhanta Sarasvati. Their missionary activities are condemned as cheating.
Indian print, 83 pages, 3 EUR + postage
Sad-darsanam: The Six Systems of Vedic Philosophies
- compiled by Suhotra Swami
Traditionally, six schools of thought propagated Vedic wisdom, each from a different philosophical perspective. Each of these perspectives or darsanas is associated with a famous sage who is the author of a sutra (code) expressing the essence of his darsana. Vyasa's Vedanta sutra, which carefully examines and judges the six systems of Vedic philosophy (as well as other philosophies), forms the third great body of Vedic literature after the sruti-sastra and smrti-sastra. This is known as the nyaya-sastra, scriptures of philosophical disputation.
The sad-darsana (six philosophical views) are Nyaya (logic), Vaisesika (atomic theory), Sankhya (analysis of matter and spirit), Yoga (the discipline of self-realization), Karma-mimamsa (science of fruitive work) and Vedanta (science of God realization).
Indian print, 210 pages, hardbound, 4 EUR + postage
Bhu-Gola Tattva - Science of the Round Earth
by HH Danavir Goswami
is dedicated to Srila Prabhupada and "his beloved disciple HG Suhotra dasa Tapovanacari". This book contains Suhotra Maharaja's 138 pages long investigation on traditional Gaudiya Cosmotheism. It is almost the size
of Vedanta Psychology book.
ISBN 978-1-934405-03-1, 527 pages, hardbound, Price 15 Euros + postage
VEDANTA PSYCHOLOGY
TEMPORARILY OUT OF STOCK
India's Ancient Wisdom of the Mind

Vedanta Psychology introduces the reader to the ancient science of discriminating between pure, eternal and ever-blissful soul and the flickering unsteady mind, which is the seat of all duality (happiness and distress, love and hatred, etc.). The structure of the mind is exactingly explained. How the mind is to be used in yoga (spiritual elevation) is made very clear. And finally the ultimate aim of Vedanta is explained - how the pure soul may be released from the encumbrance of mental identification and can return to the Supreme Soul, the source of all.
ISBN-13: 978-952-92-1093-0, 187 pages, Hardcover, Indian print, Price: 6 Euros + postage
SUBSTANCE AND SHADOW
The Vedic Method of Knowledge.
Veda means knowledge - certain knowledge. This book challenges the reader to review, in the light of Vedic knowlege, the perennial questions of life: does the world within the reach of our mind and senses really exist? Is there something beyond this world? What is truth and what is illusion? What is the meaning of meaning?
In clear, penetrating language, Suhotra Swami takes the reader on a thoughtful and often humorous walk across the Vedic setu, the bridge leading from doubt to certainty, darkness to light, shadow to substance. The view from the bridge encompasses ancient India and Greece, modern science, the paradoxes of philosophy, and, finally, the answer to the question "why?".
An elaborate glossary features more than 300 entries of Sanskrit, Greek, Latin and English philosophical terms. Both the scholar and general reader will find Substance and Shadow - The Vedic Method of knowledge illuminating.
ISBN 3-906347-37-0, 320 pages, Hardcover, Price: 8 Euros + postage. For 6 pieces and more only 6 Euro each + postage !!!
TRANSCENDENTAL PERSONALISM

OUT OF STOCK
Vedic Answers for the Human Situation.
Man and fate: can we change the future, or are we slaves of the Wheel of Time represented as the zodiac? What is our purpose in the cosmos, and what is the true meaning of good and evil? Are there dimensions of personality beyond present human understanding?
Using the wisdom of ancient Vedic texts as its map, Transcendental Personalism-Vedic Answers for the Human Situation guides the reader through the weighty problem of mankind's place in the mysterious scheme of the universe.
In thoughtful yet thankfully lucid language, Suhotra Swami now delves into more questions of cosmology, psychology, phenomenology, the powerful influence of myth even in our modern world, and the path back to the original Self beyond time.
ISBN 3-906347-38-9, 176 pages, Hardcover, Price: -- Euros + postage
KRISHNA KIRTANA I. - audio casette MC
MC contens the bhajan Náma-sankírtana ( Hari haraye namah Krsna ) + 3 other extatic kírtans with Hare Krishna Mahámantra.
Live recordings from the Náma-hatta Summer Camp ( Atol - Protivanov Czech Rep.) year 1997
Price: 2 Euros + postage
KRISHNA KIRTANA II. - audio casette MC
Live recordings from public program at Govinda restaurant Prague ( May 2000 ) and at Nitái-Navadvípacandra Mandir ( July 1998 ).
First side contains a sweet meditative melodies, second side is dynamic kírtan with sweet bhajan Jaya Rádhá-Mádhava in the middle.
Price: 2 Euros + postage
Seminar on Bhagavata Psychology of the Mind - MP3 CD
HG Suhotra das Tapovanacari and Nitai Gauranga Prabhu - a MIT graduatee, Mayapur 2006.
Helps us to see how Srimad Bhagavatam most perfectly and deeply explains everything one could possibly want to know on the subject. Devotees have no need to resort to non-devotional explanations of psychology because "Bhagavatam doesn't say anything about it". It does, we just have to see it. 22 classes, for 5 Euros (including postage). Donations are going to Bhaktivedanta Academy in Mayapur.
© 2003 - 2013 Suhotra Maharaja Archives - Vidyagati das