Departure of Suhotra Maharaja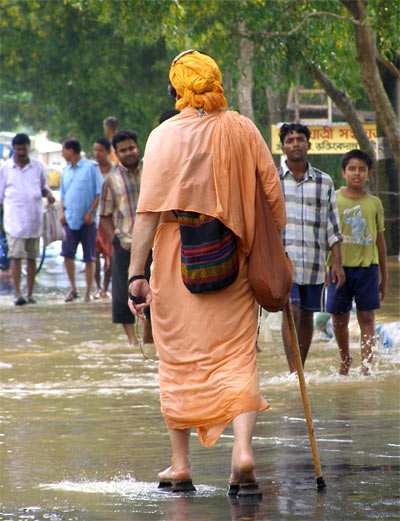 Dear devotees,
Please accept my humble obeisances!
All glories to Srila Prabhupada!
With heart full of pain I have to inform you about recent passing away of HG Suhotra das Tapovanacari from this world. His body was found on Monday 9th April in his room in Mayapur Gurukula.
Muniraja Prabhu's letter: "Doctor confirmed that death was natural, it seems the heart had just stopped. He was lying peacefully in his bed, holding his beads. Maharaja was on a marathon to write study materials for Srimad Bhagavatam and was fully absorbed into it for last weeks and months. He gave wonderful Bhagavatam class in Gurukula on last week's Tuesday. He said this will be his last lecture for this spring, since he will be dedicated to writing, "enjoy while you can", he said in a jolly mood. Later I thought that Krsna spoke through him and told that it was to be the last lecture for ever."
Hari Sauri Prabhu: "He did tremendous service for many years, was resident here in Mayapur for the last few years, he left his body here in Mayapur and therefore we can say without doubt that he got the full blessings of Sri Caitanya Mahaprabhu and Srila Prabhupada. I have no doubt he went back to Godhead."
His services in terms of management, book distribution, preaching & lecture engagement and literary work are to be remembered. As Lord Krishna says in the Gita: "For one who explains this supreme secret to the devotees, pure devotional service is guaranteed, and at the end he will come back to Me. There is no servant in this world more dear to Me than he, nor will there ever be one more dear."
Let us pray for his mercy on us.
Your servant,
Vidyagati das
---
Letter from Madhava Gauranga Prabhu,
the principal of Bhaktivedanta Academy, 10th April 2007
Dear Devotees,
It is with great sadness that we have to announce the departure of His Grace Suhotra Prabhu from this world. Since joining the gurukula full time in 2004 he worked continuously on the study guide of the Srimad Bhagavatam, almost to the exclusion of anything else.
On Tuesday 3rd April, he announced to his class that he would be starting a one month marathon of study and writing and wouldn't be free to give class anymore.
It was not uncommon for Suhotraji to work 36 hours straight at times in the privacy of his room, even taking prasadam in there. On Saturday 7th April he mentioned that his mind had become very peaceful now that he could immerse himself completely in his study and writing of the Bhagavatam guide. He preferred to be left to himself when writing and would call for anything he needed.
On Monday 9th April, Vagisa Prabhu went to call Suhotra Maharaja to take an international telephone call. The door to Suhotraji's room was latched from the inside and the lights off. Since Vagisa Prabhu could not get any reply he forced the door open and found Suhotra Maharaja lying on his bed, his back against the wall and his feet stretched out in front of him, crossed at the ankles. His right hand was in his bead bag and his left at his side. A light chadder lay across his body and legs. Although it appeared that Suhotra Maharaja has left his body some time before, Vagisa Prabhu called Madhava Gauranga Prabhu who confirmed that he had gone.
The government doctor stated off the record that the visible signs were consistent with a heart attack. Suhotra Maharaja's body was subsequently taken to Krishnanagar by officials of the government, accompanied by Rama Vijaya Prabhu, and Jagannatha Misra Prabhu and other devotees from the temple for the official post mortem. The results of the post mortem confirm the initial report. Suhotraji left this world from massive cardiac failure.
In accordance with Vaisnava rituals his body will be cremated as soon as the government officials release it
We at the Bhaktivedanta Academy feel the loss of Suhotra Maharaja deeply, along with all other devotees who are his friends and well wishers.
Your Servants
The devotees of the Bhaktivedanta Academy.
---
Cremation of Suhotra Maharaja's body
Dear Devotees,
Please accept my humble obeisances. All glories to Srila Prabhupada.
Last night 11.4.2007 between 6.30 pm and 10 pm a wonderful cremation took place.
Suhotra Maharaja's body was released by the Police and brought from the Krsnanagar hospital to the burning ghat at Navadvipa. HG Gaura Hari prabhu from the Goshal, who has assisted in many cremations for devotees over the past 10-15 years, was the chief pujari.
Observing all the rituals, including removing the plastic wrapping and replacing it with fine new cloth, he arranged a funeral pyre of wood on the banks of the Ganges. In attendance were 6 western disciples/well wishers and around 100 devotees from Mayapura. The fire was lit just before sunset and to the accompaniment of sweet Hare krsna kirtan, Suhotra Maharajas remains burnt to ashes.
Comments were made "that the fire was practically smokeless", indicating a soul in pure consciousness. And the roaring 6meter high flame attracted many onlookers. Another group of Vaisnavas had arrived around 9pm to burn another body but inspired by the kirtan they left aside their charge and joined our kirtan for over 1 hour.
Now the ashes are staying at the BA in 3 urns waiting for the descision on where the samadhi will be. Also Suhotra Maharaja's sister is coming from US to take some ashes and get the mercy of her illustrious brother and the Holy Dham of Sri Mayapura.
We plan to have a memorial class, including excerpts from Suhotra Maharaja's last Srimad Bhagavatam class he gave, on Tuesday 17th April followed by a sponsored feast for the whole Mayapura community of devotees. This day is 11 days after his departure.
ys Shanti Parayan das