Amsterdam, the Netherlands
3 December 2004
Lecture at a College in The Hague
02 December 2004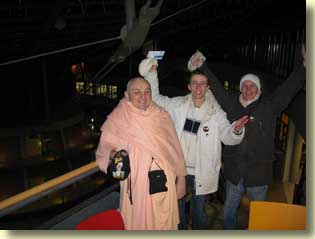 With Bhaktas Jerry and Michael, in front a backdrop of space age architecture.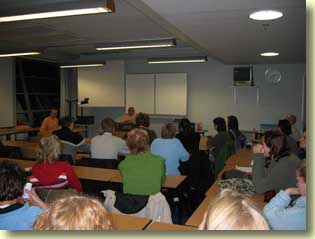 These students are training to become elementary school teachers. I spoke on the necessity of higher philosophy and character education in today's world. Good questions at the end, and email feedback assured me that the class was very satisfied with my presentation.

HH Bhakti-tirtha Maharaja Update
Dear Godfamily, friends and well wishers,
Please accept our most humble obeisances
All glories to our beloved Gurumaharaja
All glories to ISKCON Founder Acharya Srila Prabhupada
In our last letter we informed everyone that we will give the details of Gurudeva's situation in a couple days.
MONDAY Nov.29th
Monday was an extremely busy day for Gurudeva, he and Ekavira Prabhu accompanied by one of Gurudev's godbrothers, who offered to drive Ekavira and Gurudeva, left early in the morning to take Gurudeva to a town an hour away for some treatments. That evening, Guurmaharaja had an appointment that was scheduled by the recommendation of his Doctor here in HAwaii, to see a wound specialist. After examining the wound she informed us that the wound was healing nicely however the foot was hot up to the knee, this was a concern for her. Ekavira Prabhu then took Gurudeva's temperature, it was 102. The wound specialist called the doctor, we took Gurudeva to see the Doctor, he examined him, then immediately admitted him to the hospital, bypassing going to the emmegency room. The doctor's explanation was that Gurudeva may have another infection, this time possibly in the foot. We stayed with Gurudeva in the hospital until the nurses had finished with the usual--- drawing of blood, vital signs, and administering the antibiotic IV. We hoped Gurumaharaja could sleep a little more comfortably.
Tuesday Nov.30th
Gurudeva is in the hospital. In the morning when we spoke to him, he had a difficult night, the foot was twitching and paining, his breathing is still difficult and he has a cough, he had dificulties sleeping. In the afternoon, we left for the hospital with Gurudev's lunch, and anxious to hear the reports from the morning doctor. GOOD NEWS.... One of the nurses gave Gurudeva the results of his ultrasound and the catscan. There are no traces of cancer in the liver or the lungs. The cancer that was in the liver initially had totally disappeared. Ekavira and I were happy, but we tried to remember to be equiposed in happiness and distress, because the foot is still a BIG problem. We silently thanked Srila Prabupada and Krsna for it seems that it is not time for Gurudeva to leave. Gurudeva was also relieved, because he is torn with staying and wanting whatever Srila Prabhupada wants.
Wednesday Dec.1st
Gurumaharaja is still in the hospital. Today his doctor arrives from Mexico. Gurudeva's godbrothers and godsisters are reaching out, H.H. Bir Krsna Maharaja, Malati Devi, H.H. Rtadvajna(sp) called to check on Gurudeva. It is always so comforting to speak with these dedicated senior vaisnavas. Mahesh Prabhu offered to pick up Gurudeva's doctor as he arrived at the airport that is an hour away from where we are presently staying.
MEETING WITH GURUDEVA and THE DOCTORS in the Hospital:
Last night Dr. Wong one of the surgeons here at the hospital in Hawaii, and Tony Jiminez, the doctor from Mexico examined Gurudeva's foot and the lymph nodes in his leg area. The suggestion of this meeting after thorough examination is that Gurudeva should request a biopsy on the foot, so that there can be 100% confirmation that it is only Melanoma in his foot, Dr. Tony think there could possibly be a fungus growing in his foot, in addition to the melonoma or perhaps it may be the fungus that is creating all these problems. After the results of the biopsy, if it is only Melanoma, then the suggestion from both doctors was that Gurudeva should consider amputation of the foot. The reasons for this decision are:
1. The present tumor on his foot is extremely big and it is stressing out the rest of Gurudev's body.
2. He would have a better chance of the cancer not spreading to other parts of the body.
3. He would live longer and have a better quality of life. He would walk with a prosthesis.
Guurdeva has a lot to think about. He shared some thoughts of going to Mayapur now, rather than go through all the drama, however Dr. Tony who is quite spiritual, spoke with him about all the things he could offer if he makes the decision to stay on the planet. We left the hospital late last night with Dr. Tony who we are hosting for the next two days.
Thursday Dec 2nd.
Ekavira had to pick up Dr. Tony at 6:00am to take him to the hospital. (we have a wonderful sharing about where Dr. Tony is staying, please remind ius to share this pastime later) Dr. Tony is meeting with Dr. Keeney in Gurudeva's room this morning at 7:15am. Tony wanted to go over Gurudeva's chart with Dr.Keeney. I stayed at the house so that I could update all of you, as I know it can be so stresful just waiting to hear what is going on with Gurudeva.
We will keep you updated. Please continue praying.
Your aspiring servants
With love
Ekavira and Vrajalila if ($_GET['p']) {?>
} ?>