Timisoara, Romania
14 July 2004


Budapest Rathayatra!
10 July 2004
Dinner for the Sponsors, 8 July
I arrived in Budapest on the afternoon of 8 July. The devotees requested I take part in the dinner for the sponsors of the Rathayatra Festival. HH Sivarama Maharaja normally would have been at the dinner too, but he was attending the Congress of World Religions at Barcelona, Spain.
| | |
| --- | --- |
| Regular friends and supporters of ISKCON made up about eighty percent of the guests at the dinner program. The rest were first-time donors. | The Budapest devotees presented a very expert lineup of transcendental entertainment. This bhajan band was magnificent. |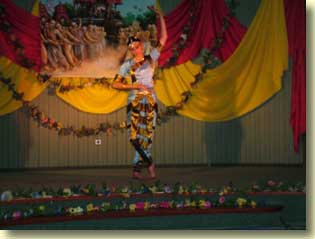 A classical Bharat Natyam performance by a skillful Hungarian dancer.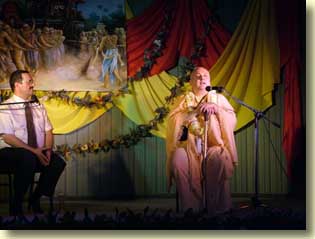 I gave a short talk about the significance of Jaganatha Rathayatra in Srila Prabhupada's ISKCON movement.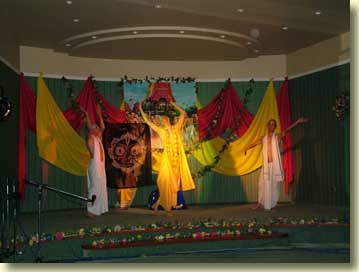 A beautiful drama without words was performed to introduce the guests to the deep spiritual meaning of Rathayatra.
Rathayatra Day, 10 July
| | |
| --- | --- |
| Sri-Sri-Sri Jagannatha-Baladeva-Subhadra-devi Ki Jaya! | Because HH Sivarama Maharaja was delayed, I gave the inauguration speech. |
HH Sivarama Maharaja joined the procession about 45 minutes after the Rathayatra started.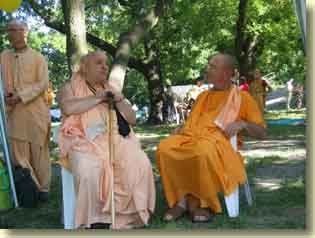 Sadhu-sanga!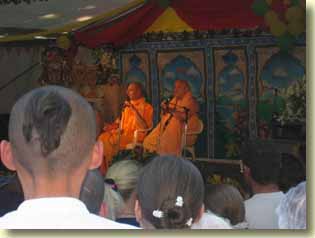 Maharaja kindly translated a talk I gave to the attendees assembled in the festival tent at the destination, a nice park alongside the Danube river.
| | |
| --- | --- |
| I gave class at the Budapest temple... | ...in service to Their Lordships Sri-Sri Nitai Vijaya-Gauranga. |