Belgaum, Karnataka, India
4 April 2004


Morning Puja, 3 April 6:00 AM, at Prahladananda Prabhu's House
Preaching at G.I.T.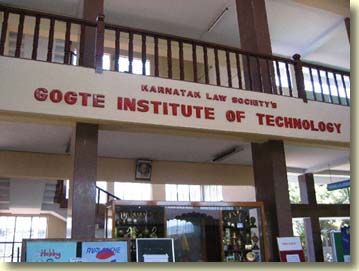 On 3 March I was invited to lecture for an hour and a half at the G.I.T., Belgaum.
Before the program began we met with the principal of the institute, Dr. D.H. Rao, who received his Ph.D. in Canada
| | |
| --- | --- |
| Dr. Rao introduced me to the assembly. | The students listened attentively... |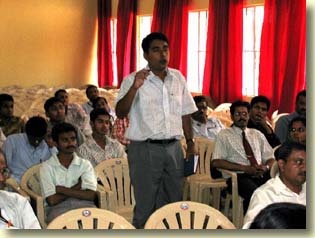 ...and after my talk many had profound questions--much more philosophical than the "What's that mark on your forehead?" sort of question often asked by students in the West.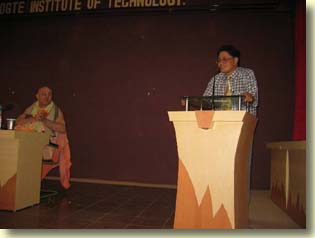 At the close of the program one of the professors came up to the podium to express his personal appreciation for the lecture.
Lunch at Mr. Katwa's House
| | |
| --- | --- |
| This Sri Govinda Saligram Sila presides in the home of Mr. H.D. Katwa, Chairman and Managing Director of Katwa Udyog Limited, a multi-million dollar international corporation. Mr. Katwa is a great supporter of ISKCON Belgaum and a personal friend of mine. | Mr. Katwa and his daughter-in-law oversee the service of Sri Govindaji's prasadam. |
| | |
| --- | --- |
| Sri Govinda's expert cooks ki jaya! | Mr. Katwa's grand-daughter. |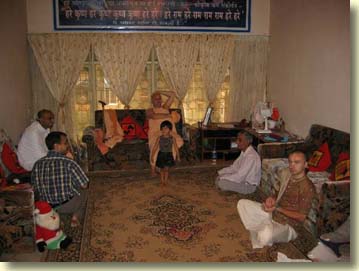 Relaxing a bit after prasadam.
Gita Class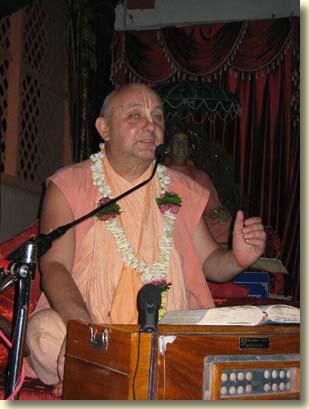 Evening Bhagavad-gita class at the Belgaum ISKCON temple. On the average I am giving 3 classes a day here.