New Ekachakra, Abranovche (near Preshov), Slovakia
11 June, 2003
Prague, 9 June morning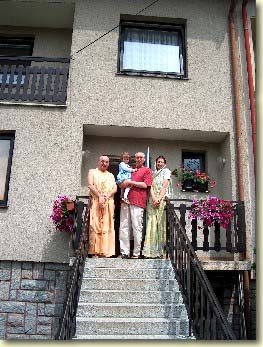 During my stay in Prague, I lived here at the
home of Prahlada Nrsimha and family. We
are about 12 minutes drive from the
ISKCON temple in Zlicin.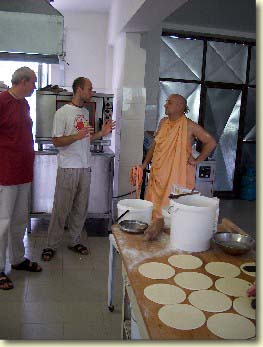 Before departing Prague for Slovakia,
I visit the Nitai Bakery's production kitchen,
located in the village of Cherveny Ujezd
(not far from Zlicin). Panasa Prabhu briefs
me on the booming business of bread-baking;
the Prague devotees now have two bakery
shops in the city and are looking for a third.
With Prahlada Nrsimha Prabhu
(manager of Nitai Bakery), his wife
Adhika-daya dd and daughter
Narayani dd, I visit a castle in
Cherveny Ujezd. The place looks
as if it is from the Middle Ages and
is constructed in the authentic
Gothic style, but it is only a couple
of years old! It was built for tourists
by a Czech millionaire who is a
customer of Nitai Bakery. Fresh
bread-prasadamand other items
are sold at the castle's restaurant.

ISKCON Bratislava, Slovakia, 9 June evening
Bhagavad-gita class at the Bratislava
preaching center.


On route to New Ekachakra, 10 June
After Srimad-Bhagavatam class
Vidyagati Prabhu and I were driven
to New Ekachakra, located in the
village of Abranovche outside of
Preshov. The drive took five hours,
which is amazing since Slovakia is
such a small country. But as you can
see, the landscape is mountainous;
thus the roads are tortuous.
Darshan of Sri-Sri Panchatattva and
Sri Bala-gopal at New Ekachakra.
My Shila altar is set up in the temple
room here. My puja starts at 3:30;
at 5:00 the devotees have mangala-
arati for Panchatattva. After Tulsi-
puja I do the nitya-homa for the
Shilas.