This Is The Horoscope of Suhotra Maharaja
He has a ruchaka mahapurusha yoga from Chandra Lagna that is quite remarkable to those who have studied yogas. First note that Mars is exalted forming an exceptional Chandra-Mangala Yoga in the 9th. Next note that all remaining benefic planets cause Dhuradhara yoga. This Duradhara yoga is created by Venus and Mercury in the 8th causing anapha yogas. And Jupiter in the 10th causing sunapha yoga. So there you have it, Such a Ruchaka Mahapurusha Yoga is ver very rare.
From the Yoga Dictionary of the Bhrigu Project, we find:
ruchaka yoga: Ruchaka yoga is the mahapurusha yoga caused by Mars as described in Phala Dipika (6.1). Ruchaka implies brightness, splendor or even "taste." Because Mars is a planet ruling bravery, power, great strength and initiative, this is an astrological mark for leadership, passion, high intelligence, boldness and monumental efforts. Such "Martian" natives are often leaders, students of martial arts, victorious over enemies and powerful. The daring, power and glory endowed through ruchaka yoga sometimes instills arrogance unto the native as well, as seen in the intensity of the native's chiseled features. A word to the wise: for those who are born under this yoga introspection is called for. You may be insensitive to the feelings of others or consider others' ideas as unimportant. Mars is known as a militaristic planet, and as a result many leaders in the armed forces or law enforcement are born under ruchaka mahapurusha yoga.
According to Phala Dipika (6.2): "The person born in ruchaka yoga has a long face. He acquires wealth through performing courageous deeds. He is powerful, valorous and arrogant, and conquers his enemies. He becomes famous by virtue of his merits and will be the commander of an army. He will be successful in all his endeavors."
See mahapurusha yoga next.
mahapurusha yoga: There are five mahapurusha yogas signifying different types of "great personalities." These five are formed when any planet that rules two signs each is in an angular or kendra houses and is in his own sign or exaltation. Thus when any of the five planets—Mars, Mercury, Jupiter, Venus and Saturn—are swa-rashi or uccha in houses 1, 4, 7, or 10 mahapurusha yoga is generated. Generally, strong mahapurusha yoga in a horoscope will endow a native with fame, wealth, popularity and increased stature. However, the exact of strength of mahapurusha yoga will vary and each one must be considered with a skilled astrologer on a one to one basis.
Regarding the pancha mahapurusha yogas, Dr. Gauri Shankar Kapoor, the translator of Phala Dipika, notes "These five yogas can be reckoned from the lagna as well as from the Moon and will be found effective from both the places. They bestow on the native an empire and perfection. The person with one such yoga is fortunate; with two such yogas he will be equal to a king; with three he will be a king; four such yogas will make him a sovereign of sovereigns; and with five such yogas the person will be the emperor of emperors." (Phala Dipika, page 64)
However, the author admonishes (on page 62), "It is imperative that the (mahapurusha) yogas only when the lagna, the Moon and the planets that form the yoga are without blemish. In other words, they should be vested with strength and are not associated with or in conjunction with malefics, are not combust and are not placed in between malefics."
According to Phala Dipika (6.1) the five mahapurusha yogas are ruchaka yoga (Mars), bhadra yoga (Mercury), hamsa yoga (Jupiter), Malavya Yoga (Venus) and shasha yoga (Saturn).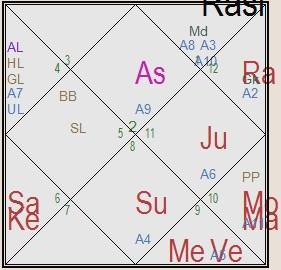 Comments