This is Suhotra Dasa Brahmachari, Boston 1971
19th November 2015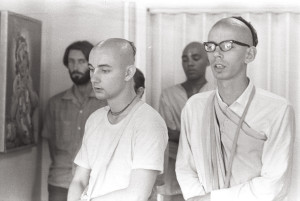 Suhotra Prabhu joined the Hare Krishna Movement as Roger during the heydays of ISKCON Press. It was there that Yours Truly was in the bindery with the always devoted Vaikunthanatha. That winter Suhotra had purchased a BTG from the hand of one of Shrila Prabhupada's angels in Detroit—likely Krishna Bhamini, Bhagavan, Mahananda or Hladini. The legendary missionary spirit of the early Detroit devotees has since proven to be an inspiration for the movement for through the sale of one magazine we see the spark that created such a bright light of inspiration.

Incidentally, of the latter personality mentioned above, Mother Hladini devi, I have written the following in my commentaries of the recently-published Shri Chanakya Niti:
"Tragically, several faithful devotees preaching Krishna consciousness to the people of Liberia, including our dear Godsister Hladini devi and several Africans, were unceremoniously abducted from the temple and executed by the order of the country's leader. Sometimes devotees enter such places at great risk to themselves in order to benefit the unfortunate citizens struggling under the rule of asuric despots. As shocking as it sounds, there are indeed many such places on Earth, although the media we rely on in a pretension of fairness and balance hardly reports such incidents."
Let us return to the subject of Suhotra Maharaja. Upon reading the BTG magazine he immediately recognized Shrila Prabhupada as his eternal spiritual master. Such was its potency. Now Roger wished to join his spiritual master at Boston, the place where the BTG had been printed.
Here is the earliest known devotee-photo of His Holiness. It was recently unearthed in the Bhaktivedanta Archives by Shrimati Nitya Tripta dasi, the mother of all archives. She has sent it along to us and we are happy to share this photo-ratna with you on Facebook.
Nitya Tripta is married to my old friend Ekanatha who everyone knows. My friendship with Eknath goes back to the days at Hare Krishna Land when the temple was under construction and Bombay housed the BBT. As far as Mother Nitya and I are concerned, we are both of southern Davis origin, which would be mostly Welch descent. Recently when Nitya Tripta came to Sofia with her husband, she became the first lady Prabhupada disciple to step foot into the Sofia ISKCON Center. He talk there is remembered fondly.
Here in the SW corner of the country, we have a guest house where traveling brahmacharis or sannyasis camp called "Suhotra Sadana." A framed print of this prayerful and thought-provoking portrait is going up there. Upon receiving this photo I wrote to my Godsister Nitya Tripta:
Dear blessed sister, dear Mataji,
How very kind of you to remember me in this way. Thank you! And so much appreciated in the everlasting memory of the World Acharya Shrila Prabhupada who descended from Goloka to rescue us.
Our dandavats to you both, my humble obeisances to Shriman Eknatha Prabhu.
Your servant and God-brother,
Patita Pavana dasa and Abhaya Mudra Dasi (End of Letter)
So this is the second photo of HH Suhotra Maharaja to decorate our Suhotra Sadana. The first was a very large color photo that captured the divine strength of His Holiness while preaching in an ancient Orthodox church here in Eastern Europe. It was also donated by Nitya Tripta during her visit to Sofia for medical tourism a year ago.
Under the direction of Nitya Triptya and Ekanatha Prabhus, the Archives have turned into a genuine museum quality befitting a Presidential Library—and this is a real tribute to Shrila Prabhupada.
Incidentally, the Bhaktivedanta Archives has just published a free-download book (it's on the most recent Vedabase launch a few days back) on the early days of ISKCON Press. This jolly romp is a collection of dozens of articles by Prabhus who were there, Prabhupada's lectures of the day, etc. Anyone interested in a free download may message me with their email and I'll send it out to you.
And w will continue to discuss the phenomenal life of Suhotra Maharaja in future posts.