Catalogue of lectures - Audio & Video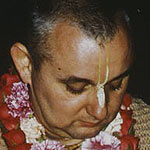 First we would like to thank all devotees and friends who have helped us to make the project of SUHOTRA MAHARAJA MEDIA MINISTRY possible. The Audio Ministry, now the biggest ever, includes five previous smaller Ministries. It features over 3800 recorded lectures, seminars, speeches and bhajans. The Video Ministry includes over 360 video lectures (either as MPG1 files or DVD). Both are systematically listed in the Catalogue.
Here you can download the Catalogue in .xls (Excel) format. This catalogue
was last updated: 16.5.2005.Download:
catalogue.zip
The herculean task of converting the whole "Tape Ministry" with more than 3000 tapes into mp3 format took us almost three years (2001-2004). Now all the lectures, seminars and bhajans from years 1980 - 2007 that were recorded on the tapes or minidiscs are easily available in this most convenient form.
Not being satisfied only with preserving the audio, we have decided to preserve and digitalize all available VHS tapes too. This job took us almost one year (2003-04). We have made them into MPEG1 files. Also there is a lot of video material shot in the years 2003-04. Both mp3 and VideoCDs (VCD) you can order from our Catalogue.
HOW TO ORDER
MP3s: Please choose from the Catalogue lectures you are interested in. We will burn a CD compilation of your desire.
VCDs: Please choose from the Catalogue lectures you are interested in. In the VIDEO VCD section of the Catalogue it is mentioned whether the video fits on one or two CDs.
Now after choosing your lectures please send us the list by e-mail to:
PRICES & PAYMENT

We will ask you for a donation according to this table:
The price
includes
packing and postage.
CD
Amount of lectures
Price
Fully recorded MP3 CD
(700 MB)
30
€ 10
1 VCD (video)

1
€ 3
2 VCDs* (video)

1
€ 5
*some lectures are too long to fit on one VCD
At present we offer these methods of payment:
1/ sending to our PayPal account
2/ sending to our bank account (please ask for details)
3/ using Western Union Money Transfer (make it payable to Jiri Poncar, Czech Republic)
4/ sending money in registered letter (recommando) to: Jiri Poncar, c/o ISKCON, Jilova 290, 155 21 Praha 5, Czech Republic.
CDs will be sent to you within two weeks after we receive your money.
© 2003 - 2013 Suhotra Maharaja Archives - Vidyagati das