Jokes by Bhakta Hap Camper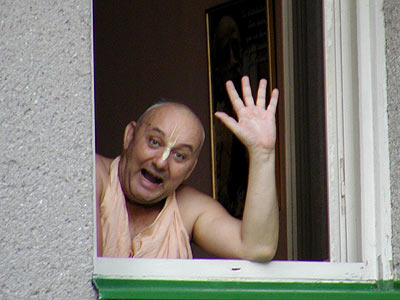 Bhakta "Hap" at CZ Camp 2002

Punya Palaka Prabhu's memories of Bhakta Hap:
Sometimes in the middle of the 90's, bhakta Hap Camper appeared at the "Danda" internet conference of Suhotra Maharaja, with many sophisticated questions. Maharaja was teasing him, "Does your name have anything to do with the American taunting title Happy Camper?" One Swedish disciple of Harikesa, Premarnava prabhu I think was his name, added a personal remark, "Are you not the tall, bespectacled boy I met at [such and such] conference?" Then at one point Maharaja banned bhakta Hap from Danda since his questions started to become somehow touchy but he stated, "You can communicate with Hap through his private address if you like." So I took the opportunity and expressed my sympathies with Hap in a personal letter to him, mentioning also some doubts of mine. He answered by this poem:
"Strange ideas beget strange deeds
Doubts imagined become doubts believed
Of Krsna think and pray the taste
That ever youĺll act within His grace"
This was encouraging, so I continued my correspondence, revealing some of my own weaknesses. Hap's reply:
"From guru you should learn how to mold the characteristics of your imperfection to the perfection of your characteristics."
That impelled me to a question: "You speak nicely about guru but why you yourself haven't accepted one?"
To that bhakta Hap never replied. Instead, another person, with a Polish name, informed me:
"Hap was staying with me in my flat here in Gdansk, and he asked me to take care of his correspondence should anything happen. Yesterday I came home, and Hap had disappeared, I found only a note left by him, some strange talks about UFO, I don't know what to think of it..."
The weird thing about Maharaja's exchanges with Hap at the Danda conference was that they used to manage to discuss practically on-line, with no breaks between their questions and answers to each other. So I heard some rumors they possibly might have been one person...
---

The name of the conference is: (Global) Jokes

Text 129258 (8 lines)
From:     LINK: Akruranatha (Dasa) ACBSP (San Francisco)
          Date:     12-Apr-95 11:35 EDT
Refernce: Text 128968 by (Bhakta) Hap Camper (Gdansk - PL)
To:       (Global) Jokes [197]
Subject:  Another Englishman joke
------------------------------------------------------------
Whether made up by Indians or not, I believe the sardarji jokes (and I have
heard a great many of them) would not pass muster on the planet "poly
a paarticular, provincial, headstrong but dull-witted sort of person, and
are therefore racist, in ther fashion.  I admit, some of them are funny
((by the way, in the United States in the 'sixties there was a wave of
"Polak" jokes which were pretty similar)).  Anyway, I have no ray gun and
after my bad chat-anuga joke I am on thin ice to criticise anyone.

(Text 129258) ----------------------------------------------
Comments: Text 129298 by (Bhakta) Hap Camper (Gdansk - PL)

Text 129298 (3 lines)
From:     (Bhakta) Hap Camper (Gdansk - PL)
Date:     12-Apr-95 20:16 SST
Refernce: Text 129258 by LINK: Akruranatha (Dasa) ACBSP (San Francisco)
To:       (Global) Jokes [198]
Subject:  Another Englishman joke
------------------------------------------------------------
They're not called Polack jokes now.  They're burak jokes.  (Burak means
"beetroot-head.")

(Text 129298) ----------------------------------------------
Comments: Text 129303 by Dhyanakunda (dd) KKD (NE-BBT Polish)

Text 129303 (26 lines)
From:     Dhyanakunda (dd) KKD (NE-BBT Polish)
Date:     12-Apr-95 20:27 SST
Refernce: Text 129298 by (Bhakta) Hap Camper (Gdansk - PL)
To:       (Global) Jokes [199]
Subject:  Another Englishman joke
------------------------------------------------------------
In the Seventies, Poles used a similar kind of jokes to help survive the
gloom of the then political system. I remember a joke about the US
President vs Soviet union Prime Minister. Carter, Reagan, Brezniew,
Andropow, Czrenienko --names were changing, the joke lasted.

Once upon a time, Mr. carter wished to check the intelligence level of his
troops. So, having gathered the best American soldiers in front of the
White House, he came out, picked out a soldier named Johnny and said:

- Johnny, I have a riddle for you. You have ten seconds to answer. Tell me,
who is the person that is your father's son but is not your brother?

- It's me! - Johnny answered immediately. Mr. Carter was now satisfied.

Soon, through the spies the story reached Comrade Brezniew. He decided to
test his soldiers the same way. So, having gathered his troops on the Red
Square, he picked out one named Ivan and said, smiling:

_ Ivan, I have a small riddle for you. You have ten minutes to answer. Tell
me, who is the person that is your father's son but is not your brother?

Ivan became deeply thoughtful, but even after ten minutes he could not find
the answer. Comrade Brezniew's face became red with fury:

- It's Johnny, you damned fool!!

(Text 129303) ----------------------------------------------

Text 129369 (39 lines)
From:     (Bhakta) Hap Camper (Gdansk - PL)
Date:     12-Apr-95 23:28 SST
To:       (Global) Jokes [200]
Subject:  Burak jokes (warning: more mind-numbing than home-made Polish vodka)
------------------------------------------------------------
Burak joke -- first form

Burak #1: You've seen my new dog?  He don't have a nose!
Burak #2: No nose?  How does he smell?
Burak #1: Terrible!

Burak joke -- second form (2 girl buraks)

Girl burak #1: Look!  Here's the letter of reply to my application to
               join the Lonely Hearts Club!
Girl burak #2: Oh lovely!  Open it!  What does it say?
Girl burak #1: (Opens envelope, reads letter and bursts into tears)
               It says, "We're not THAT lonely!"

Burak joke -- third form (Polish intellectual buraks: all thought, no sense)

Burak #1: G.W.F. Hegel said, "Truth is in league with reality against 
          awareness."
Burak #2: Can you prove that?
Burak #1: It is proven by the following exchange.  A journalist
          interviewed Hollywood actor Cary Grant, and while writing
          up the article realized he hadn't asked Cary's age.  So
          he sent him a telegram that said HOW OLD CARY GRANT.  A
          telegram returned saying, OLD CARY GRANT QUITE WELL STOP
          HOW YOU.

Burak joke -- third form (retort)

Burak #2: W.V. Quine said, "Logic chases truth up the tree of grammar."
Burak #1: Can you prove that?
Burak #2: It is proven by the following sentence: "Does not yield a truth
          when appended to its own quotation" does not yield a truth
          when appended to its own quotation.

Burak joke -- forth form (farm animal buraks)

Chicken burak: Cluck cluck cluck cluck cluck.
Duck burak: Quack quack quack quack quack.
Chicken burak: Cackle! Cackle! Cackle!
(Text 129369) ----------------------------------------------

Text 129372 (6 lines)
From:     (Bhakta) Hap Camper (Gdansk - PL)
Date:     12-Apr-95 23:51 SST
To:       (Global) Jokes [201]
Subject:  Key to the 2 intellectual burak jokes
------------------------------------------------------------
What's funny about them is that in each joke the answer to the question, 
Can you prove that?, applies to the other joke.  Ha-ha-ha-ha-ha!  

(Oh.  You're not laughing.  Well, it's funny if you're the kind of
intellectual who runs out of the house and stops the street cleaning
water-sprinkler truck to warn the driver that his tank is leaking.)
(Text 129372) ----------------------------------------------
============================================================================
The name of the conference is: (Global) Jokes

Text 129452 (3 lines)
From:     Labangalatika (dd) HKS (Almvik - S)
Date:     13-Apr-95 09:30 SST
Refernce: Text 129372 by (Bhakta) Hap Camper (Gdansk - PL)
To:       (Global) Jokes [202]
Subject:  Glories to the return of the jokes!
------------------------------------------------------------

And if anyone erazes all of this, ill start flaming!
your giggleling servant
(Text 129452) ----------------------------------------------

Text 129460 (24 lines)
From:     LINK: Akruranatha (Dasa) ACBSP (San Francisco)
Date:     13-Apr-95 01:55 EDT
Refernce: Text 129372 by (Bhakta) Hap Camper (Gdansk - PL)
To:       (Global) Jokes [203]
Subject:  Key to the 2 intellectual burak jokes
------------------------------------------------------------
All these jokes are not the real offensive kind we sometimes hear, for
example from cab drivers in the United States.  Hegel and Quine!  I would
expect that fewer than ten percent of Americans even heard of Hegel, and
fewer than one percent heard of Quine, much less know anything about their
philosophical writings.  These are not the "polak" jokes I was referring
to.

Just to give a concrete example (which, after all, is a socially
constructive purpose and I know everyone here is far too cultured to
actually be amused, or else I would check myself out of fear of ray gun
attacks which, by the way, I cannot understand how Madonna has managed to
elude and survive these many years), I submit to you all a real, down to
earth ethnic joke:


Why did the Polacks move out of the outhouse?



The Italians upstairs made too much noise.

(Text 129460) ----------------------------------------------

Text 129551 (60 lines)
From:     (Bhakta) Hap Camper (Gdansk - PL)
Date:     13-Apr-95 13:15 SST
To:       (Global) Jokes [204]
Subject:  The return of Gort and Klaatu
------------------------------------------------------------
Akruranatha Prabhu's question as to why Madonna didn't get the ray gun
treatment jogged my memory.  While at the Manor, she was invited
to a meeting of the Bearded Householder's Council.  Our 2 aliens,
Gort (with the ray gun) and Klaatu, are hovering in their flying saucer
outside of the window.

This is what they overhear.

"I'm a vegetarian.  I only go out with guys who have plenty of lettuce.
That's because, even though people say I'm good for nothing, I do follow
one regulative principle: I'm not bad for nothing.  I don't mind it when men
love me and leave me, as long as they leave me enough.  Well, I guess
that's it.  I'm not a big talker--I only speak in moneysyllables."

"Please tell us your innermost thoughts."

"Oh, I'm never bothered by noises in my head.  Sound doesn't transmit
through a vacuum."

"But Madonna, you're a famous feminist idol.  We're just poor unfortunate
White Anglo-Saxon Protestant males in need of guidance from a liberated
woman.  We wear beards to show the world what we stand for.  We think that
our Bearded Householders Council stands for a lot of the same things you do."

"To me, it's not a matter of what a man stands for, it's what he falls
for that counts."

"Yes, quite right.  A lot of the devotees here think we're fallen, but
we just try to follow Varnasrama-dharma.  Some of us not only grow beards,
but we grow our own food, too."

"Oh, I just adore men with green thumbs.  Especially if their thumbs are
green from peeling off $100 dollar bills.  I'm a gardner myself.  I know
all the rakes.  But my favorite hobby is antiques--you know, collecting
rich old geezers."

"Madonna, aren't you doing a tour of the Orient soon?  What do you think
about Red China?"

"It's okay as long as it doesn't clash with the color of the tablecloth."

Gort turns to Klaatu and says, "This lady is penny wise and gowned foolish.
But I hear that her stage performances always have a happy ending --
when the curtain closes."

Klaatu answers, "Actually, she started show business in ballet.  She saw
some toe girls dancing and thought the ballet company needed taller girls,
so she applied for a job."

"Klaatu, tell me about those beards in there, are they ... what's that Earth
word, psycho-ceramics?"

"I think you mean crackpots, Gort."

"That's the word.  Why does Madonna like these guys?  They really don't seem
to be her type.  But she's getting along just fine with them in there."

"Well, Gort, you've seen how Western women eagerly flock to department stores
when a discount sale is advertised?  Madonna's no exception.  She just can't
resist anything that's fifty percent off."
(Text 129551) ----------------------------------------------

Text 129633 (33 lines)
From:     (Bhakta) Hap Camper (Gdansk - PL)
Date:     13-Apr-95 16:05 SST
To:       (Global) Jokes [205]
Subject:  Gort: Klaatu Madonna Niktu
------------------------------------------------------------
But still, why exactly didn't Gort vaporize Madonna?



Because Klaatu reminded him that it's Easter season.  She dresses like an 
Easter egg.



.
(Text 129633) ----------------------------------------------

Text 129663 (28 lines)
From:     (Bhakta) Hap Camper (Gdansk - PL)
Date:     13-Apr-95 17:45 SST
To:       (Global) Jokes [206]
Subject:  Yet another Englishman joke
------------------------------------------------------------
Australians call Englishmen "Pommies."  This is a genuine
Pommy joke from Australia.

Why, when they die, are Pommies put into graves 30 feet deep?



Because in the end, deep down, they're nice people.
(Text 129663) ----------------------------------------------

Text 129862 (17 lines)
From:     (Bhakta) Hap Camper (Gdansk - PL)
Date:     14-Apr-95 10:33 SST
To:       (Global) Jokes [207]
Subject:  Song of the Bearded Householders Council
------------------------------------------------------------
Sung before every meeting to the tune of "God Save the Queen"

Our faces have to sprout,
Why should we do without
Beards on our chins?
Nice devotees still we are,
Who says we have to carve
Our precious face-hairs? We will have
Beards on our chins!

We have so much to say
Don't make us shave away
Beards from our chins.
When we've all returned back Home
Do you think there'll be shaving foam
That's when the rest of you will grow
Beards on your chins! 
(Text 129862) ----------------------------------------------

Text 130009 (33 lines)
From:     (Bhakta) Hap Camper (Gdansk - PL)
Date:     14-Apr-95 13:53 SST
To:       (Global) Jokes [208]
Subject:  Ian Paisley's church
------------------------------------------------------------
Reverend Ian Paisley is a church leader in Belfast, Northern Ireland who 
is a pro-England Protestant extremist.

One fine Sunday a young Anglo-Indian who was thinking of converting
to Christianity happened to enter Paisley's church.  He had been told
much about the reverend's strong preaching, and wanted hear a sermon
himself.  But as he sat down in a pew, the reverend broke off his
sermon and pointed directly at the young man.

"What are you doing in this church?" he demanded.

"Well, ah, I'm thinking of becoming a Christian, so, er, I 
thought I'd just attend your sermon today," the young man stammered.

"This, sir, is not a church for the castoffs of oriental heathendom."
Paisley thundered.  "If you want to join a church, find one that admits
rag-tag coloreds like yourself.  This is a church that believes the
United Kingdom has no place for Catholics, Jews and the dark races!"

The young man unhappily went home and began to pray.  

Hours passed.  He continued praying fervently. 

Suddenly the room was filled with light, and a majestic voice came from
down on high.  "You pray very sincerely.  How can I be of help
to you?"

The young man was awe-struck to know that God Himself had answered his
prayers.  With folded hands, he stated his purpose: "My Lord, I would like 
to get into Reverend Paisley's church."

God chuckled.  "Well, son, I'm afraid I can't help you.  I Myself have been 
trying to get into that church for the last 30 years."
(Text 130009) ----------------------------------------------

Text 130010 (52 lines)
From:     (Bhakta) Hap Camper (Gdansk - PL)
Date:     14-Apr-95 13:53 SST
To:       (Global) Jokes [209]
Subject:  Sappy's Sure Cure
------------------------------------------------------------
This is a story I've taken from Sappy's Fables.  These fables are originally
Indian (from a scripture called the Hityophace), but are adapted in
Western form by Sappy the Greek, who runs a salad bar in the Lower East
Side.

I was going to send this story to Philo-ex, but another devotee posts
Sappy's Fables there already.  Practical Medicine might be another
possibility, but I'd probably get kicked out if I posted it there.
So I can't think of another place to put it except here.  

Members of this conference are warned that the following story is
outrageous and maybe crosses the line of decency.  But maybe not.
You be the judge.

A regular customer at Sappy's Salad Bar came in one day looking green
around the gills.  Sappy says, "Wassa matta you?  Sick?"

"Yeah, Sappy, I haven't been able to digest food for the past 5 days.
I've gone to my doctor, but nothing he prescribes works."

"Hey, Sappy gonna fix you up.  Take these asparagus home, look I give
free, you take home, cook, cook then mash.  Mash into mush.  Then
don't eat mush, put up into back side, unnerstand?  Greek cure, don't
worry."

"Put the asparagus mush up the back side?  Well, OK, Sappy, since
nothing else works, I'll try anything once."

Two days later the guy returns to Sappy's Salad Bar.  He's excited.
"Sappy--Sappy--I love ya.  It's working.  But not quite.  Still a
little problem with the digestion.  But it's better, much better."

"Okay, okay, okay, now you take the green peas and carrots, take-a
home, no pay.  Cook, cook, mash to mush, don't eat, put mush up into back
side."

Two days later, the customer returns again.  He embraces Sappy.  "Sappy!
I'm almost cured!  But there's still a little, little problem."

"No, no problem, 'cause now you gonna take-a the spinach home, here,
and cook, mash and put mush up the back side.  Greek cure, guaranteed!"

Two days later the customer returns all full of smiles, pumps Sappy's
hand and announces, "I'm cured, Sappy!  You did it."

But as they talk, Sappy notices that the man seems to be dancing while
standing still.  His hips are swaying back and forth with a regular
rhythm.

"Hey, wassa matta?" Sappy asks.

"Oh, nothing.  Just chewing gum."
(Text 130010) ----------------------------------------------

Text 130011 (27 lines)
From:     (Bhakta) Hap Camper (Gdansk - PL)
Date:     14-Apr-95 13:53 SST
To:       (Global) Jokes [210]
Subject:  Was Jesus Christ an Indian
------------------------------------------------------------
The Times of India published the results of reseach done by the Indian
Institute of Anthropology.  The institute has evidence that Jesus Christ
was an Indian.  Why?



Because he's just now coming.
The name of the conference is: (Global) Jokes

Text 130223 (28 lines)
From:     Ajamidha (das) HKS (Helsinki - SF)
Date:     14-Apr-95 19:17 SST
Refernce: Text 129369 by (Bhakta) Hap Camper (Gdansk - PL)
To:       (Global) Jokes [211]
Subject:  Burak jokes (warning: more mind-numbing than home-made Polish vodka)
------------------------------------------------------------
         Here is one about the communists  ť:¤>

     How is it that you need 11 communists to skrew a light bulb into
     it's socket in the cealing?




One holds the bulb while the other ten  rotate the house...
(Text 130223) ----------------------------------------------
Comments: Text 130302 by (Bhakta) Hap Camper (Gdansk - PL)

Text 130302 (5 lines)
From:     (Bhakta) Hap Camper (Gdansk - PL)
Date:     14-Apr-95 22:29 SST
Refernce: Text 130223 by Ajamidha (das) HKS (Helsinki - SF)
To:       (Global) Jokes [212]
Subject:  Burak jokes (warning: more mind-numbing than home-made Polish vodka)
------------------------------------------------------------
I called Mr. R.U. Sirius of the Central Joke Registry.  That joke has been
in the Joke Morgue for the last 25 years.  The last time it was told before
a group of people, only one person applauded, and he was just slapping his
head to stay awake.

(Text 130302) ----------------------------------------------

============================================================================
The name of the conference is: (Global) Jokes

Text 130423 (28 lines)
From:     (Bhakta) Hap Camper (Gdansk - PL)
Date:     15-Apr-95 09:51 SST
To:       (Global) Jokes [213]
Subject:  A joke about Jews, anyone?
------------------------------------------------------------
So far, I've learned that the members of this conference tend to view
jokes in which black people are the butt of humor to be politically
incorrect.  But nobody minds when I make fun of Englishmen, even
to the point of calling them rude names like Pommies.  Even the
English devotees who read these jokes don't protest.  Interesting,
ektshually.  It just proves what they say about the Brits--they get
a sliver in their finger every time they scratch their heads.  
What's even more interesting is that the members of this conference 
have such apparently lack of regard for space aliens.  Don't you feel 
ashamed laughing at jokes about them?  Do you really feel yourselves so 
superior, just because they're small, skinny, gray, have big eyes
and fly around in saucers zapping people with ray guns?  Well, it just 
goes to show what they say about Earth people.  They're always speaking
so unkindly about their inferiors, but nobody's been able to find who 
their inferiors are.

Anyway, enough of that.  Here's a joke about Jews.

A young Jewish boy was sitting in his father's tailor shop.  A customer
had just paid the father for a $20 shirt and was leaving the store.
The boy asked his father, "Dad, what's business ethics?"

His father replied, "Son, I've noticed while here at the cash register
that the customer who's just exiting through the door accidently
gave me two $20 bills stuck together.  So here's where question of
business ethics comes in.

Whether or not to tell my partner?"
(Text 130423) ----------------------------------------------

Text 130477 (64 lines)
From:     (Bhakta) Hap Camper (Gdansk - PL)
Date:     15-Apr-95 12:34 SST
To:       (Global) Jokes [214]
Subject:  A new category: Ancient Egyptian jokes
------------------------------------------------------------
You've heard of space alien jokes, Pommy jokes, Polack jokes,
burak jokes, Italian jokes, Greek jokes, Jew jokes, spade jokes,
chink jokes, greaseball jokes, Canuck jokes, hunky jokes, spic
jokes, etc. etc. etc.

Here's a new category guaranteed to be perfectly acceptable to
all: Ancient Egyptian Jokes!  Political correctness guaranteed,
unless you are sitting there in front of your monitor wrapped in 
2500 year old strips of bedsheet.


Midnight in the British Museum, 1924.  The mummies of King Tut and Queen 
Nefertiti have been removed from their sarcophaguses and lie side by 
side on slabs, where they'll be examined in the morning by a team
of Egyptologists.

King Tut turns to Nefertiti and says, "When I look at you, time stands
still."

What he really meant was that after 2500 years, she had a face that would
stop a clock.

Nefertiti replies, "My love, you are so dark and handsome."

What she really meant was that while it's dark, he's handsome.

They get up, go rummaging through all the old boxes and crates until
they've dressed themselves in their royal apparel.  Then they sneak out
of the museum and head for a masquerade ball.

As they enter, the hostess, Dame Melba Witheringsgow-Trillingsby turns
to a friend and says, "Don't they look a million -- every year of it."

But soon King Tut and Queen Nefertiti are the life of the party, which
doesn't say much for British social occasions.  He's at the piano while
she sings, "You've got Egypt in Your Eyes" (which was really the
name of a hit song in the 20's).

Then they dance the tango.  King Tut sends his Queen into a pirouette across 
the ballroom floor.  Unfortunately he hangs onto a end of her wrapping,
so as she spun, she became undone.  Out of control, she goes rotating
like a top through an entrance to the garden and lands in a heap
on the flowerbed.  Dame Witheringsgow-Trillingsby's dog, whose name was
Major-General Gareth Snoid, comes trotting along and, with a brusque "Mind 
out, love," buries Queen Nefertiti in the garden for a leisurely gnaw later 
on.

King Tut staggers into the garden, calling out for Nefertiti and quoting
ancient Egyptian love poems.  Sir Cedric Hoggingwallow, also staggering
due to being totally drunk, bumps into him.  "I say," Sir Cedric
says tipsily as he peers at King Tut, "it's ... YOU, old Morton 
Rattlebones himself!  Haven't seen you since the war's end.
How are you, old chap?"  He looks closer.  "Oh Lord, what's happened,
Morty?  Accident?  You're all swathed in bandages.  Oh, pardon, silly me,
masquerade ball, right, pip-pip, jolly good show, look at me, I'm dressed 
like Bluebeard meself, but don't worry, the beard's false."  He pulls
it down quickly and grins.  "Wouldn't do for it to be real now, would it,
chaps'd think I'm a ruddy Bolshevik!"

Just then Gort and Klaatu step out from the bushes.  Gort trains a ray
gun on King Tut and Sir Cedric while Klaatu intones, "Don't move,
Earthlings, we have some questions for you."

(To Be Continued)
(Text 130477) ----------------------------------------------

The name of the conference is: (Global) Jokes

Text 130578 (1 line)
From:     Labangalatika (dd) HKS (Almvik - S)
Date:     15-Apr-95 16:54 SST
Refernce: Text 130477 by (Bhakta) Hap Camper (Gdansk - PL)
To:       (Global) Jokes [215]
Subject:  A new category: Ancient Egyptian jokes
------------------------------------------------------------
Curiouser and curiouser! Did the aliens get anyone?
(Text 130578) ----------------------------------------------
Comments: Text 130589 by Gauracandra (das) PVS (NE-BBT)

Text 130589 (1 line)
From:     Gauracandra (das) PVS (NE-BBT)
Date:     15-Apr-95 17:29 SST
Refernce: Text 130578 by Labangalatika (dd) HKS (Almvik - S)
To:       (Global) Jokes [216]
Subject:  A new category: Ancient Egyptian jokes
------------------------------------------------------------
They got Hap Camper instead...
(Text 130589) ----------------------------------------------

Text 130686 (29 lines)
From:     Internet: Vraja Kishor   Towaco 
Date:     15-Apr-95 09:09 AST
To:       (Bhakta) Hap Camper (Gdansk - PL) [95]  (received: 15-Apr-95 20:35)
Cc:       (Global) Jokes [217]
Subject:  Bearded householders
------------------------------------------------------------
Dear Happy Camper (hap),

Please accept my happy obeisances. All glories to Srila Prabhupada.

Are there really such beings as bearded householders?

If so - don't make fun of them. It is better to slit your wrists then to 
make jokes at the expense ofKrishna's devotee. Take this advice and don't 
mince words with it.

Even if it doesn't bother them, it bothers me.

Even if YOU are a bearded householder - it pollutes the consciousness of 
your readers, and inclines them to engage in similar joke-making - which 
will implicate them in offenses. (As such your jokes are not funny - but 
both suicidal and murderous).

It's not that I don't have a sense of humor, either. And it's not that 
I'm a fanatic, either.

Srila Prabhodananda Sarasvati Thakura has written one very nice poem; in 
english, it reads something like: "when will my tongue become dumb to 
describing the faults of others? When will my ears become deaf to jokes 
mocking others? Then, perhaps, I will be accepted into the transcendental 
land of Sri Vrindaban."

 -Vraja Kishor das


(Text 130686) ----------------------------------------------
Comments: Text 130740 by (Bhakta) Hap Camper (Gdansk - PL)

Text 130740 (2 lines)
From:     (Bhakta) Hap Camper (Gdansk - PL)
Date:     15-Apr-95 20:37 SST
Refernce: Text 130686 by Internet: Vraja Kishor   Towaco
To:       Vraja Kishor   Towaco 
            (sent: 15-Apr-95 22:44 SST)
Cc:       (Global) Jokes [219]
Subject:  Bearded householders
------------------------------------------------------------
Given the choice of two calamaties, I always choose both.

(Text 130740) ----------------------------------------------

Text 130688 (3 lines)
From:     Internet: Vraja Kishor   Towaco 
Date:     15-Apr-95 09:14 AST
To:       (Bhakta) Hap Camper (Gdansk - PL) [97]  (received: 15-Apr-95 20:40)
Cc:       (Global) Jokes [218]
Subject:  A pretty good one (fwd)
------------------------------------------------------------

By the way, I kinda liked the one about the church.

(Text 130688) ----------------------------------------------
Comments: Text 130747 by (Bhakta) Hap Camper (Gdansk - PL)

Text 130747 (3 lines)
From:     (Bhakta) Hap Camper (Gdansk - PL)
Date:     15-Apr-95 20:44 SST
Refernce: Text 130688 by Internet: Vraja Kishor   Towaco
To:       Vraja Kishor   Towaco 
            (sent: 15-Apr-95 22:44 SST)
Cc:       (Global) Jokes [221]
Subject:  A pretty good one (fwd)
------------------------------------------------------------
OK, so I'll stick to clean jokes from now on.  I've put an aerial on top of
my spin washer (kind with the porthole door on the front) for better
reception of Spic 'n' Span jokes.
(Text 130747) ----------------------------------------------
Comments: Text 130750 by (Bhakta) Hap Camper (Gdansk - PL)

Text 130750 (2 lines)
From:     (Bhakta) Hap Camper (Gdansk - PL)
Date:     15-Apr-95 20:53 SST
Refernce: Text 130747 by (Bhakta) Hap Camper (Gdansk - PL)
To:       Vraja Kishor   Towaco 
            (sent: 15-Apr-95 22:44 SST)
Cc:       (Global) Jokes [223]
Subject:  A pretty good one (fwd)
------------------------------------------------------------
Oops!  Sorry, Mr. Martinez, I didn't mean it quite that way.

(Text 130750) ----------------------------------------------

Text 130743 (2 lines)
From:     Ajamidha (das) HKS (Helsinki - SF)
Date:     15-Apr-95 20:40 SST
Refernce: Text 130302 by (Bhakta) Hap Camper (Gdansk - PL)
To:       (Global) Jokes [220]
Subject:  Burak jokes (warning: more mind-numbing than home-made Polish vodka)
------------------------------------------------------------
                  Dear Happy Camrade, your joke about the egyptians
  was found in the 2500 years old grave of Tut-al-chaos...
(Text 130743) ----------------------------------------------
Comments: Text 130748 by (Bhakta) Hap Camper (Gdansk - PL)

Text 130748 (2 lines)
From:     (Bhakta) Hap Camper (Gdansk - PL)
Date:     15-Apr-95 20:46 SST
Refernce: Text 130743 by Ajamidha (das) HKS (Helsinki - SF)
To:       (Global) Jokes [222]
Subject:  Burak jokes (warning: more mind-numbing than home-made Polish vodka)
------------------------------------------------------------
It all started when my mother had me vaccinated with a phonograph needle.

(Text 130748) ----------------------------------------------
Comments: Text 130755 by Jahnu (das) HKS (Almvik - S)

Text 130755 (1 line)
From:     Jahnu (das) HKS (Almvik - S)
Date:     15-Apr-95 21:11 SST
Refernce: Text 130748 by (Bhakta) Hap Camper (Gdansk - PL)
To:       (Global) Jokes [224]
Subject:  Burak jokes (warning: more mind-numbing than home-made Polish vodka)
------------------------------------------------------------
That was an old one too.
(Text 130755) ----------------------------------------------

Text 130761 (10 lines)
From:     (Bhakta) Hap Camper (Gdansk - PL)
Date:     15-Apr-95 21:49 SST
To:       (Global) Jokes [225]
Subject:  Okay, so Hap quits jokes and goes into comixs
------------------------------------------------------------
               ############          ////\\\\
               #######  │           ///    \\\
               # ┌──   O└─┐         │=== ===│
               # │@     ┌─┘         │ O   O │
                 \      c           │   U   │
                     ───┘           └─┐ O ┌─┘
                                      └───┘
            I hear that this     That's right.  And
          Hap Camper dude is     he's served time for
          a man of convictions.  every one of them.
(Text 130761) ----------------------------------------------
Comments: Text 130800 by Madana-Manohara (das) HKS (Heidelberg - D)

Text 130800 (2 lines)
From:     Madana-Manohara (das) HKS (Heidelberg - D)
Date:     15-Apr-95 23:01 SST
Refernce: Text 130761 by (Bhakta) Hap Camper (Gdansk - PL)
To:       (Global) Jokes [226]
Subject:  Okay, so Hap quits jokes and goes into comixs
------------------------------------------------------------
Your jokes are really great but what else are you doing the whole day?
Every day I get ten of them. You should make a newspaper.
(Text 130800) ----------------------------------------------
Comments: Text 130878 by (Bhakta) Hap Camper (Gdansk - PL)

Text 130878 (3 lines)
From:     (Bhakta) Hap Camper (Gdansk - PL)
Date:     16-Apr-95 05:47 SST
Refernce: Text 130800 by Madana-Manohara (das) HKS (Heidelberg - D)
To:       (Global) Jokes [231]
Subject:  Okay, so Hap quits jokes and goes into comixs
------------------------------------------------------------
What else do I do all day?  The only difference between me and the Sphinx
is that I move when the prasadam bell rings.  Otherwise, I'm all loco and
no motive.
(Text 130878) ----------------------------------------------

Text 130857 (37 lines)
From:     LINK: Ramiya (Dasa) ACBSP 
Date:     15-Apr-95 20:06 EDT
To:       (Global) Jokes [227]
Subject:  Scientific Humor
------------------------------------------------------------
It is actually very amazing that although science and mathematics
and very closely connected, professionals in these 2 disciplines
have very little affinity for the other group dabbling in their
home territory.  Perhaps comparable to the feelings that the
devotees and scientists (non-devotee ones only of course).  In this
vein I share with you the following true story.
----------------------------------------------------------
A mathematician and a biologist were sharing a cell the night
before their execution (for crimes unimaginable).  The executioner
came to ask for their last wishes.


The mathematician glanced at the biologist and said, "I've been
doing some work in mathematical biology, and I've got some
interesting results. Before I die, would you arrange for me to give
a seminar on my work?"
"Sure" said the executioner, and turned to the biologist.  "Now
what would you like?"
The biologist said, " I would like to be executed before the
seminar."

----------------------------------------------------
In a rare moment, they may even acknowledge divine origins of the
universe to avoid recognizing accomplishments of their colleagues
from the other camp.
 Divine Scientific humor

The mathematician Mark Kac was giving a seminar at Caltech to an
audience that included the irrepressible physicist R. P. Feynman.
Feynman loved to take potshots at what he considered the petty
attachments to rigor of mathematicians, and when Kac paused for
breath, Feynman grabbed his chance. "If mathematics did not exist,"
Feynman announced " it would set the world back one week."

Without hesitation Kac replied, "Precisely the week in which God
created the world."

(Text 130857) ----------------------------------------------

Text 130858 (26 lines)
From:     LINK: Ramiya (Dasa) ACBSP 
Date:     15-Apr-95 20:06 EDT
To:       (Global) Jokes [228]
Subject:  
------------------------------------------------------------
How many survivors of a nuclear war does it take to change a light
bulb?




So who needs light bulbs when you already glow in the dark?

(Text 130858) ----------------------------------------------

Text 130859 (33 lines)
From:     LINK: Ramiya (Dasa) ACBSP 
Date:     15-Apr-95 20:06 EDT
To:       (Global) Jokes [229]
Subject:  
------------------------------------------------------------
A computer scientist's lament:
Artificial intelligence will never be a match for natural
stupidity.
----------------------------------------------
How can you spot a real computer expert?

A real computer expert can make a mistake and not get mad at the
computer.
------------------------------------------------------------------
There are really only 2 kinds of computer users
Those who have lost important files in a hardware crash and those
who are about to.
---------------------------------
Why are computer viruses so dangerous?




They could give you terminal illness.

(Text 130859) ----------------------------------------------

Text 130860 (5 lines)
From:     LINK: Ramiya (Dasa) ACBSP 
Date:     15-Apr-95 20:06 EDT
To:       (Global) Jokes [230]
Subject:  Intellectual botanical humor
------------------------------------------------------------
A Famous Botanical scientist was quoted:
You can lead a horticulture but you can't make her think.

--Perhaps he heard the Madonna jokes too.

(Text 130860) ----------------------------------------------

Text 130745 (3 lines)
From:     (Bhakta) Hap Camper (Gdansk - PL)
Date:     15-Apr-95 20:40 SST
Refernce: Text 130687 by Internet: Vraja Kishor   Towaco
To:       Vraja Kishor   Towaco 
            (sent: 15-Apr-95 22:44 SST),
          (Global) Jokes [232]
Cc:       jokes@iskcon  (sent: 15-Apr-95 22:44 SST)
Subject:  A pretty good one
------------------------------------------------------------
I don't have a beard, but the hair I do have is loaded with electricity
because of all the shocking things I have on my mind.

(Text 130745) ----------------------------------------------

The name of the conference is: (Global) Jokes

Text 130901 (1 line)
From:     Dhyanakunda (dd) KKD (NE-BBT Polish)
Date:     16-Apr-95 08:09 SST
Refernce: Text 130878 by (Bhakta) Hap Camper (Gdansk - PL)
To:       (Global) Jokes [233]
Subject:  Okay, so Hap quits jokes and goes into comixs
------------------------------------------------------------
Oh, condolences on your chipped-off nose, then!
(Text 130901) ----------------------------------------------
Comments: Text 130908 by (Bhakta) Hap Camper (Gdansk - PL)

Text 130908 (2 lines)
From:     (Bhakta) Hap Camper (Gdansk - PL)
Date:     16-Apr-95 08:21 SST
Refernce: Text 130901 by Dhyanakunda (dd) KKD (NE-BBT Polish)
To:       (Global) Jokes [234]
Subject:  Okay, so Hap quits jokes and goes into comixs
------------------------------------------------------------
I have a fairly good nose, as noses run.

(Text 130908) ----------------------------------------------

Text 130935 (12 lines)
From:     (Bhakta) Hap Camper (Gdansk - PL)
Date:     16-Apr-95 09:34 SST
To:       (Global) Jokes [235]
Subject:  Yogi Breadlock's WISDOM OF THE YEAST: "A Jewel of a Joke"
------------------------------------------------------------
┌──────────────────────────┐              ┌───────────────────────────┐
│The word "joke" comes from│      SSSS    │ Jewels are weighed in     │
│the Medieval Latin jocus. │    SSSSSSS   │ carats.  The word carat   │
│In Old French, joel (a    │   SSSSSSSSS  │ comes from Arabic qirat,  │
│plaything) is derived from│  SSSSSSSSSSS │ which means bean. But     │
│jocus. From joel comes    │   │~0~ ~0~│  │ jokes can't be valued in  │
│the English word jewel.   │   (   U   )  │ carats.  Which means they │
│Hence, "joke" and "jewel" ├─> │  ───  │<─┤ ain't worth beans.        │
│are related words.        │   └mmmmmmm┘  │                           │
└──────────────────────────┘     mmmmm    └───────────────────────────┘
                                  mmm
                                   m
(Text 130935) ----------------------------------------------
Comments: Text 130952 by Mukhya (dd) HKS (NE-BBT Bulgarian)

Text 130952 (1 line)
From:     Mukhya (dd) HKS (NE-BBT Bulgarian)
Date:     16-Apr-95 10:43 SST
Refernce: Text 130935 by (Bhakta) Hap Camper (Gdansk - PL)
To:       (Global) Jokes [237]
Subject:  Yogi Breadlock's WISDOM OF THE YEAST: "A Jewel of a Joke"
------------------------------------------------------------
I have a question for Bh. Hap: Why do the white bears not eat penguins?
(Text 130952) ----------------------------------------------
Comments: Text 130984 by (Bhakta) Hap Camper (Gdansk - PL)

Text 130984 (4 lines)
From:     (Bhakta) Hap Camper (Gdansk - PL)
Date:     16-Apr-95 12:47 SST
Refernce: Text 130952 by Mukhya (dd) HKS (NE-BBT Bulgarian)
To:       (Global) Jokes [238]
Subject:  Yogi Breadlock's WISDOM OF THE YEAST: "A Jewel of a Joke"
------------------------------------------------------------
You may have some real mindtwister answer in mind, sister, but them with
smarts know that the parts where the penguins grow are bare of the white
bears.  (Penguins are in Antarctica, and Polar Bears are in the Artic.)

(Text 130984) ----------------------------------------------

Text 130936 (21 lines)
From:     Mahasakti (das) NRS (St.Petersburg - R)
Date:     16-Apr-95 09:41 SST
To:       (Global) Jokes [236]
Subject:  Another communist joke
------------------------------------------------------------
There was a nice joke recently about Carter and Brezhnew. I have got
another one...

Brezhnew once came to Washington. Carter made a great banquet feast
for him. So many hundreds of dishes and so on. Brezhnew was really
impressed! In amazement he asked: "Where did you get so much money?!"

Carter answers: "Just look out to the window. Can you see the river?"
"Yes" - replies Brezhnew. "Can you see the bridge?" "Yes". "So
according to the project the bridge costed $2 million. I revised the
project, found a mistake and saved $200.000. So that is where the
money come from!"

Two weeks after Carter comes to Moscow. The banquest that Brezhnew
made for him was far more opulent. Thousands of preparations, ranks
of Vodka bottles and so on. Carter was astonished. "Where did you get
so much money, I wonder?!"

Brezhnew answers: "Just look out to the window. Can you see the
river?" "Yes" - replies Carter. "Can you see the bridge?" "Well, no I
can't see any bridge there..." "So that it where the money come from!"
(Text 130936) ----------------------------------------------

Text 130985 (11 lines)
From:     (Bhakta) Hap Camper (Gdansk - PL)
Date:     16-Apr-95 12:48 SST
To:       (Global) Jokes [239]
Subject:  Yogi Breadlock's WISDOM OF THE YEAST: Higher Glyphics (1)
------------------------------------------------------------
    SSSSS   ┌─────────┐ ┌─────────────┐        ──────────
   SSSSSSS  │Sphinx,  │ │No wonder!   │      /             \
  SSSSSSSSS │you're   │ │I've been    │     /   ───┘└───    \
 SSSSSSSSSSS│a real   │ │idle since   │    / │     []      │ \
  │~0~ ~0~│ │idol!    │ │3000 BC!     ├─> /  └┐    ~~     ┌┘  \
  (   U   ) └─┬───────┘ └─────────────┘  /    └───────────┘    \
  │  ───  │ <─┘
  └mmmmmmm┘                             ┌──────┐        ┌──────┐
    mmmmm                               │ │  │ │        │ │  │ │
     mmm                                └─┴──┴─┘        └─┴──┴─┘
      m
(Text 130985) ----------------------------------------------

Text 130986 (11 lines)
From:     (Bhakta) Hap Camper (Gdansk - PL)
Date:     16-Apr-95 12:48 SST
To:       (Global) Jokes [240]
Subject:  Yogi Breadlock's WISDOM OF THE YEAST: Higher Glyphics (2)
------------------------------------------------------------
    SSSSS   ┌─────────┐ ┌─────────────┐        ──────────
   SSSSSSS  │What's   │ │Ask your     │      /             \
  SSSSSSSSS │the      │ │mummy!       │     /   ───┘└───    \
 SSSSSSSSSSS│Egyptian │ └─────────────┤    / │     []      │ \
  │~0~ ~0~│ │Book of  │               └─> /  └┐    ~~     ┌┘  \
  (   U   ) │the Dead │                  /    └───────────┘    \
  │  ───  │<│  about? │
  └mmmmmmm┘ └─────────┘                 ┌──────┐        ┌─────┐
    mmmmm                               │ │  │ │        │ │ │ │
     mmm                                └─┴──┴─┘        └─┴─┴─┘
      m
(Text 130986) ----------------------------------------------

Text 130987 (11 lines)
From:     (Bhakta) Hap Camper (Gdansk - PL)
Date:     16-Apr-95 12:48 SST
To:       (Global) Jokes [241]
Subject:  Yogi Breadlock's WISDOM OF THE YEAST: Higher Glyphics (3)
------------------------------------------------------------
    SSSSS   ┌─────────┐ ┌─────────────┐        ──────────
   SSSSSSS  │Who made │ │Same guys who│      /             \
  SSSSSSSSS │the      │ │made my      │     /   ───┘└───    \
 SSSSSSSSSSS│Pyramids,│ │pair o'      │    / │     []      │ \
  │~0~ ~0~│ │Sphinx?  │ │mitts!       ├─> /  └┐    ~~     ┌┘  \
  (   U   ) └─┬───────┘ └─────────────┘  /    └───────────┘    \
  │  ───  │ <─┘
  └mmmmmmm┘                             ┌──────┐        ┌──────┐
    mmmmm                               │ │  │ │        │ │  │ │
     mmm                                └─┴──┴─┘        └─┴──┴─┘
      m
(Text 130987) ----------------------------------------------

Text 131115 (34 lines)
From:     Internet: Vraja Kishor   Towaco 
Date:     16-Apr-95 11:19 AST
To:       (Bhakta) Hap Camper (Gdansk - PL) [112]  (received: 16-Apr-95 21:58)
Cc:       (Global) Jokes [242]
Subject:  A bigger whoops
------------------------------------------------------------
Dear Maharaja

Please accept my humble obeisances. All glories to Srila Prabhupada.

Now, I just made a bigger mistake, because I thought I had recieved a 
letter from YOU explaining your real identity - therefore I wrote that 
letter back to you. Reviewing my mail, I can see that it was sent by 
someone else - so my letter to you will now seem odd. 

I thought you had written to me, in a friendly mood, explaining who you 
were - and I was suprised to find that "you" made no specific reference 
to the actual points I raised.

Now that I see the letter was not from you - it is not suprising that you 
didn't address the points, and furthermore, you did not initiate a 
relationship with me in a friendly mood - so it's also improper for me to 
address you in the friendly tone of my previous message.

Then I thought you had ended it with yet another strange joke, by signing 
your name as "dasi" - i figured it had something to do with my insistance 
on chapter 45 of NOD, and other things. I thought it was a strange joke - 
but... Then again, I was writing to "Hap.Camper".

I am sorry that the letter is sent, and I sincerely ask that you forgive me.

Your servant,
Vraja Kishor das

PS this would seem to be Krishna's arrangement for purifying me, by 
sincerely asking your forgiveness and mercy. 

PPS - I send this message also to the Jokes conference so that other 
devotees will also understand my fault and mistake, and not hold it 
against me.
(Text 131115) ----------------------------------------------
Comments: Text 131209 by (Bhakta) Hap Camper (Gdansk - PL)

Text 131209 (2 lines)
From:     (Bhakta) Hap Camper (Gdansk - PL)
Date:     16-Apr-95 21:59 SST
Refernce: Text 131115 by Internet: Vraja Kishor   Towaco
To:       Vraja Kishor   Towaco 
Cc:       (Global) Jokes [246]
Subject:  A bigger whoops
------------------------------------------------------------
Huh?

(Text 131209) ----------------------------------------------

Text 131139 (1 line)
From:     Ajamidha (das) HKS (Helsinki - SF)
Date:     16-Apr-95 19:16 SST
Refernce: Text 130748 by (Bhakta) Hap Camper (Gdansk - PL)
To:       (Global) Jokes [243]
Subject:  Burak jokes (warning: more mind-numbing than home-made Polish vodka)
------------------------------------------------------------
      Needleless to say.
(Text 131139) ----------------------------------------------

Text 131140 (25 lines)
From:     Ajamidha (das) HKS (Helsinki - SF)
Date:     16-Apr-95 19:16 SST
Refernce: Text 130858 by LINK: Ramiya (Dasa) ACBSP
To:       (Global) Jokes [244]
Subject:  
------------------------------------------------------------
  How many Vaishnavas does it take to change a light bulb?!




 You should know, Vaishnavas are self-effulgent!
(Text 131140) ----------------------------------------------

Text 131141 (1 line)
From:     Ajamidha (das) HKS (Helsinki - SF)
Date:     16-Apr-95 19:16 SST
Refernce: Text 130858 by LINK: Ramiya (Dasa) ACBSP
To:       (Global) Jokes [245]
Subject:  
------------------------------------------------------------
              And this one is NOT old, it's evergreen!
The name of the conference is: (Global) Jokes

Text 131296 (6 lines)
From:     LINK: Akruranatha (Dasa) ACBSP (San Francisco)
          
Date:     16-Apr-95 11:30 EDT
Refernce: Text 130860 by LINK: Ramiya (Dasa) ACBSP
To:       (Global) Jokes [247]
Subject:  Intellectual botanical humor
------------------------------------------------------------
I believe that quip has been attributed to Dorothy Parker, who was asked to
use the word "horticulture" in a sentence.  

Krsna can be seen as "the ability in man", even in the wit of that unhappy
writer.

(Text 131296) ----------------------------------------------

Text 131297 (24 lines)
From:     LINK: Akruranatha (Dasa) ACBSP (San Francisco)
          
Date:     16-Apr-95 11:46 EDT
To:       (Global) Jokes [248]
Subject:  The wit of B.V.Madhava Swami
------------------------------------------------------------
One time we were doing a harinama sankirtan program on the steps of Sproul
Hall on Berkeley campus.  As anyone who has been to Berkeley probably
knows, there are a number of unusual characters who loiter around the
streets and harangue all the religious preachers on campus--they think of
it as a kind of public performance art (but they have no talent).  Perhaps
the real leader of this ragtag crew is a skinny man with a long, scraggly
white beard, who always wears mismatched shoes, some kind of ladies' dress
and has a cigarette dangling from his bird lips or his bony fingers.  He is
known as "the hate man" because he always greets people with obscenities
and likes to be told "I hate you" (which he thinks is more honest than the
phony Christians and so on always saying they love him and will pray for
him as he disrupts their sermons.

Anyway, as we were chanting on the steps of Sproul Hall, the hate man got a
few of his "followers" together, people whose brains were fried by mixing
too many psychedelic drugs at sensory-overload rock concerts, and started
banging on plastic buckets, as a kind of counter-demonstratio to the sweet
mrdanga sounds.  

I mentioned to B.V.Madhava Swami, then Rohini Kumar Swami, that this "hate
man" was said to actually have a PhD in English from Columbia University.

Without missing a beat, Swamiji said, "You can tell."

(Text 131297) ----------------------------------------------

Text 131357 (10 lines)
From:     LINK: Akruranatha (Dasa) ACBSP (San Francisco)
          
Date:     17-Apr-95 00:02 EDT
To:       (Global) Jokes [249]
Subject:  Cheater getting cheated
------------------------------------------------------------
There was a bogus yogi in brooklyn who always used to frequent a particular
butcher shop.  This so-called guru was a little slow on the uptake, so Mr.
hemmelman, the proprietor would, you guessed it.......


put his thumb on the scale and.........


"weigh down upon the swami's liver"

(Text 131357) ----------------------------------------------

Text 131414 (26 lines)
From:     (Bhakta) Hap Camper (Gdansk - PL)
Date:     17-Apr-95 11:01 SST
To:       (Global) Jokes [251]
Subject:  Higher Glyphics: Introducing Pahotep
------------------------------------------------------------
      $             ┌───────────────────────────────────────────────┐
     ─┴┐            │Sphinx, I often wonder if I lived another life.│
    /  O\    <──────┴───────────────────────────────────────────────┘
    │\─┬──\
   ┌┘ ┐│     C
   │  ││     │
   │  └┴────┬┤
   │ ───────┴┤
  /      \   │
 /──┬──┬──
    │  │
    │   \
    └────┘ 


                         ┌─────────────────────────────────────────┐
        ───────────      │Pahotep, you're not even living this one!│
      /             \    └─┬───────────────────────────────────────┘
     /   ───┘└───    \  <──┘
    / │     []      │ \
   /  └┐    ~~     ┌┘  \
  /    └───────────┘    \

 ┌──────┐        ┌──────┐
 │ │  │ │        │ │  │ │
 └─┴──┴─┘        └─┴──┴─┘
(Text 131414) ----------------------------------------------

Text 131437 (28 lines)
From:     (Bhakta) Hap Camper (Gdansk - PL)
Date:     17-Apr-95 12:17 SST
To:       (Global) Jokes [252]
Subject:  Higher Glyphics: Why the mummy couldn't speak
------------------------------------------------------------
       ┌────$        ┌──────────────┐     ┌───┐    ┌─────────────┐
       │/   O\       │Oh, here comes│     │o─o│ <──┤Mmmmp!  mmmp!│
       │ │\─┬──\  <──┤the mummy of  │   ┌─┴───┴─┐  └─────────────┘
       └┬┘ ┐│     C  │Imhotep along │   ├───────┤
        │  ││     │  │with the      │   ├───────┤
        │  └┴────┬┤  │Sacred Cat of │   ├───────┤
        │ ───────┴┤  │the Pharaohs. │   ├───────┤
       /      \   │  │Greetings!    │   └┬──┬──┬┘
      /──┬──┬──      │What? Can't   │    ├──┼──┤    ┌─^-^─┐
         │  │        │talk? Wonder  │    ├──┼──┤    │ o o │
         │   \       │   why?       │   ┌┴──┼──┴┐   │= ~ =├────┐
         └────┘      └──────────────┘   └───┴───┘   └m───m┴────┘






                          ───────────      ┌─────────────────────┐
                        /             \    │Cat's got his tongue.│
                       /   ───┘└───    \ <─┴─────────────────────┘
                      / │     []      │ \
                     /  └┐    ~~     ┌┘  \
                    /    └───────────┘    \

                   ┌──────┐        ┌──────┐
                   │ │  │ │        │ │  │ │
                   └─┴──┴─┘        └─┴──┴─┘
(Text 131437) ----------------------------------------------

Text 131488 (28 lines)
From:     (Bhakta) Hap Camper (Gdansk - PL)
Date:     17-Apr-95 13:14 SST
To:       (Global) Jokes [253]
Subject:  Higher Glyphics: Why the mummy wouldn't speak
------------------------------------------------------------
       ┌────$        ┌──────────────┐     ┌───┐
       │/   O\       │Is that what  │     │o─o│
       │ │\─┬──\  <──┤happens when  │   ┌─┴───┴─┐  ┌─────────────────┐
       └┬┘ ┐│     C  │you become a  │   ├───────┤  │Anyway, Pahotep, │
        │  ││     │  │mummy --      │   ├───────┤  │who'd talk to a  │
        │  └┴────┬┤  │you get so    │   ├───────┤  │birdbrain like   │
           ──────┴┤  │wrapped up    │   ├───────┤  │you?             │
       /      \   │  │in yourself   │   └┬──┬──┬┘  └───────────┬─────┘
      /──┬──┬──      │you can't even│    ├──┼──┤    ┌─^-^─┐  <─┘
         │  │        │talk to any-  │    ├──┼──┤    │ 0 0 │
         │   \       │   body?      │   ┌┴──┼──┴┐   │= ~ =├────┐
         └────┘      └──────────────┘   └───┴───┘   └m───m┴────┘






                          ───────────      ┌────────────────────────┐
                        /             \    │Hey, Pahotep, doncha get│
                       /   ───┘└───    \ <─┤it?  The Mummy's Grave! │
                      / │     []      │ \  └────────────────────────┘
                     /  └┐    ~~     ┌┘  \
                    /    └───────────┘    \

                   ┌──────┐        ┌──────┐
                   │ │  │ │        │ │  │ │
                   └─┴──┴─┘        └─┴──┴─┘
(Text 131488) ----------------------------------------------

Text 131580 (12 lines)
From:     (Bhakta) Hap Camper (Gdansk - PL)
Date:     17-Apr-95 15:34 SST
To:       (Global) Jokes [254]
Subject:  Yogi Breadlock's WISDOM OF THE YEAST: Stay tuned!
------------------------------------------------------------
┌──────────────────────────┐              ┌───────────────────────────┐
│Now wasn't that a lot of  │      SSSS    │ to the Glojo Network,     │
│fun?  The Sphinx, Pahotep │    SSSSSSS   │ where Yogi Breadlock's    │
│the Birdman, the Mummy and│   SSSSSSSSS  │ brings you hours of FUN,  │
│that cute Sacred Cat of   │  SSSSSSSSSSS │ SURPRISES AND LAUGHS!     │
│the Pharaohs will be back │   │~0~ ~0~│  │ But remember, human life  │
│REAL SOON under a brand   │   (   U   )  │ is important, so we should│
│new title: Cyberglypics!  ├─> │  ───  │<─┤ not forget our purpose.   │
│So stay tuned right here  │   └mmmmmmm┘  │ Here's a word about that. │
└──────────────────────────┘     mmmmm    └───────────────────────────┘
                                  mmm
                                   m
(Text 131580) ----------------------------------------------

Text 131581 (18 lines)
From:     (Bhakta) Hap Camper (Gdansk - PL)
Date:     17-Apr-95 15:34 SST
To:       (Global) Jokes [255]
Subject:  A word from Kheprer the Scarab Beetle
------------------------------------------------------------
   Hi, friends, this is Kheprer the Scarab Beetle with a few words for
you about reincarnation.  We Egyptian entities have the unfortunate
tendency to get hung up in our spiritual progress--we become Sphinxes
or Mummies and just hang around in the material world for millennia
after millennia.  By the beak of Thoth, take a look at me!  Of course,
I have the compensation of being a sacred insect, but apart from
scuttling around in Pyramids at night, I honestly can't say I'm doing
any better than your average cockroach.  So take it from me, Kheprer
the Scarab Beetle: Get out of the cycle of reincarnation while you have
time!
                 ═══===══╗         ╔═══====═══
                         ║         ║
               ╔═====═══┬đ─────────đ┬══====══╗
               ║ =====══Á0         0Ă══===== ║
              ═╝ ║ ╔════┴───{──}────┴══╗   ║ ╚═
              ==== ║                   ║   ===
                   ╠═══>     <═╗    <══╝
                   ╚=========══╝
(Text 131581) ----------------------------------------------
Comments: Text 131615 by (Bhakta) Jan Mares (NE-BBT Czech)

Text 131615 (2 lines)
From:     (Bhakta) Jan Mares (NE-BBT Czech)
Date:     17-Apr-95 16:19 SST
Refernce: Text 131581 by (Bhakta) Hap Camper (Gdansk - PL)
To:       (Global) Jokes [256]
Subject:  A word from Kheprer the Scarab Beetle
------------------------------------------------------------
I just love these jokes. Very high graphic level. It's better than
Showtime. Thanks bh. Hyde (sorry, Hap).
(Text 131615) ----------------------------------------------
The name of the conference is: (Global) Jokes

Text 131671 (2 lines)
From:     Dhyanakunda (dd) KKD (NE-BBT Polish)
Date:     17-Apr-95 17:46 SST
Refernce: Text 131615 by (Bhakta) Jan Mares (NE-BBT Czech)
To:       (Global) Jokes [257]
Subject:  A word from Kheprer the Scarab Beetle
------------------------------------------------------------
Pray explain what is that abnormal extra uneven leg on your right side
(left side on the glyph)? Or maybe it's just a tarka mudra?
(Text 131671) ----------------------------------------------

Text 131723 (17 lines)
From:     (Bhakta) Hap Camper (Gdansk - PL)
Date:     17-Apr-95 19:47 SST
To:       (Global) Jokes [258]
Subject:  A word from Kheprer the Scarab Beetle
------------------------------------------------------------
Hi, friends, this is Kheprer the Scarab Beetle again!  Just want to
fill you in on the latest update here at the Glojo Network. It's
official, folks!  Your favorite program is now called Cyber Glyphics!
And guess what -- Buzzardhead Pahotep has a new name!  The original
Egyptian spelling of Pahotep is actually Ptahotep, but the creator of
the program, Sap Ptamper (or whatever that guy's real name is), goofed
again and that's how it ended up as Pahotep.  So the Glojo Network
decided to change Pahotep to PAMHOTEP.  Great, huh?  Okay, without
further ado, here we go for the ALL NEW ...  CYBER GLYPHICS!
                 ═══===══╗         ╔═══====═══
                         ║         ║
               ╔═====═══┬đ─────────đ┬══====══╗
               ║ =====══Á0         0Ă══===== ║
              ═╝ ║ ╔════┴───{──}────┴══╗   ║ ╚═
              ==== ║                   ║   ===
                   ╠═══>     <═╗    <══╝
                   ╚=========══╝
(Text 131723) ----------------------------------------------

Text 131724 (28 lines)
From:     (Bhakta) Hap Camper (Gdansk - PL)
Date:     17-Apr-95 19:47 SST
To:       (Global) Jokes [259]
Subject:  Cyber Glyphics
------------------------------------------------------------
       ┌────$        ┌──────────────┐     ┌───┐
       │/   O\       │I, Pamhotep   │     │o─o│
       │ │\─┬──\  <──┤the Beaked One│   ┌─┴───┴─┐  ┌─────────────────────┐
       └┬┘ ┐│     C  │do prevail    │   ├───────┤  │Secrets? Pal, I seek │
        │  ││     │  │upon you, Im- │   ├───────┤  │rats in this bag of  │
        │  └┴────┬┤  │hotep the Mum-│   ├───────┤  │bones. All you're    │
           ──────┴┤  │my, to speak! │   ├───────┤  │gonna find is a way  │
       /      \   │  │Reveal the    │   └┬──┬──┬┘  └───────────┬┐to stay │
      /──┬──┬──      │secrets of the│    ├──┼──┤    ┌─^-^─┐  <─┘│stupid. │
         │  │        │ages!         │    ├──┼──┤    │ 0 0 │     └────────┘
         │   \       └──────────────┘   ┌┴──┼──┴┐   │= ~ =├────┐
         └────┘                         └───┴───┘   └m───m┴────┘






                          ───────────      ┌──────────────────────────┐
                        /             \    │This is called Material   │
                       /   ───┘└───    \ <─┤Science.  Like the        │
                      / │     []      │ \  │Archaeologists, Pamhotep's│
                     /  └┐    ~~     ┌┘  \ └─┐hope  for knowledge lies│
                    /    └───────────┘    \  └─┐in ruins.             │
                                               └──────────────────────┘
                   ┌──────┐        ┌──────┐
                   │ │  │ │        │ │  │ │
                   └─┴──┴─┘        └─┴──┴─┘
(Text 131724) ----------------------------------------------
The name of the conference is: (Global) Jokes

Text 131902 (28 lines)
From:     (Bhakta) Hap Camper (Gdansk - PL)
Date:     18-Apr-95 09:20 SST
To:       (Global) Jokes [260]
Subject:  Cyber Glyphics: Cleopatra, world's oldest unhappy brahmacarini
------------------------------------------------------------
           ┌───────────────┐
   ===$    │Sacred Cat,    │
   ███@    │I do so much   │
   ███<  <─┤yearn to wear  │  ┌────────────────────────┐
   ┌đ┐     │the 3 rings of │  │You mean the engagement │
   ├Ď┤)  C │marriage.      │  │ring, wedding ring and  │
 ┌┐│║│   │ └───────────────┘  │the suffer ring?        │
 │││╚¤═══O┐                   └───────────┬────────────┘
 │└┴────┐ │                     ┌─^-^─┐ <─┘
 │      │ │                     │ 0 0 │
 │      ├Ď┘                     │= ~ =├────┐
 └──────┘ \                     └m───m┴────┘






                          ───────────      ┌────────────────────────┐
                        /             \    │Poor girl -- she's      │
                       /   ───┘└───    \ <─┤working like a horse to │
                      / │     []      │ \  │get a groom.            │
                     /  └┐    ~~     ┌┘  \ └────────────────────────┘
                    /    └───────────┘    \

                   ┌──────┐        ┌──────┐
                   │ │  │ │        │ │  │ │
                   └─┴──┴─┘        └─┴──┴─┘
(Text 131902) ----------------------------------------------

Text 131954 (29 lines)
From:     (Bhakta) Hap Camper (Gdansk - PL)
Date:     18-Apr-95 11:15 SST
To:       (Global) Jokes [262]
Subject:  What is the suffer ring?
------------------------------------------------------------

           ┌───────────────┐
   ===$    │What is the    │
   ███@    │suffering?     │  ┌─────────────────────────────┐
   ███<  <─┴───────────────┘  │The wedding ring makes       │
   ┌đ┐                        │the two one.  The suffering  │
   ├Ď┤)  C                    │is in seeing which one of the│
 ┌┐│║│   │                    │two is THE one.              │
 │││╚¤═══O┐                   └───────────┬─────────────────┘
 │└┴────┐ │                     ┌─^-^─┐ <─┘
 │      │ │                     │ 0 0 │
 │      ├Ď┘                     │= ~ =├────┐
 └──────┘ \                     └m───m┴────┘






                          ───────────      ┌────────────────────────┐
                        /             \    │Marriage should be a    │
                       /   ───┘└───    \ <─┤half and half combinat- │
                      / │     []      │ \  │ion.  Unfortunately,    │
                     /  └┐    ~~     ┌┘  \ │many people don't       │
                    /    └───────────┘    \└┐understand fractions.  │
                                            └───────────────────────┘
                   ┌──────┐        ┌──────┐
                   │ │  │ │        │ │  │ │
                   └─┴──┴─┘        └─┴──┴─┘
(Text 131954) ----------------------------------------------

Text 132013 (29 lines)
From:     (Bhakta) Hap Camper (Gdansk - PL)
Date:     18-Apr-95 13:06 SST
To:       (Global) Jokes [263]
Subject:  Cyber Glyphics
------------------------------------------------------------

                                         ┌─────────────────────────┐
           ┌───────────────┐     ┌───┐   │Oh, sure, marrying him   │
   ===$    │Cat, do you    │     ├o─o┤   │would be just like baking│
   ███@    │think I could  │   ┌─┘   └─┐ │bread. You've got plenty │
   ███<  <─┤find mutual    │   ├───────┤ │of dough, and he's got   │
   ┌đ┐     │happiness with │   ├───────┤ │plenty of crust!         │
   ├Ď┤)  C │Imhotep the    │   ├───────┤ └────────────────────┬────┘
 ┌┐│║│   │ │Mummy? After   │   ├───────┤                      │
 │││╚¤═══O┐│all, he's a    │   └┬──┬──┬┘                      │
 │└┴────┐ ││mute.          │    ├──┼──┤             ┌─^-^─┐ <─┘
 │      │ │└───────────────┘    ├──┼──┤             │ 0 0 │
 │      ├Ď┘                    ┌┴──┼──┴┐            │= ~ =├────┐
 └──────┘ \                    └───┴───┘            └m───m┴────┘






                          ───────────      ┌────────────────────────┐
                        /             \    │In sickness or health,  │
                       /   ───┘└───    \ <─┤OK. But this guy's dead!│
                      / │     []      │ \  └────────────────────────┘
                     /  └┐    ~~     ┌┘  \
                    /    └───────────┘    \
                   ┌──────┐        ┌──────┐
                   │ │  │ │        │ │  │ │
                   └─┴──┴─┘        └─┴──┴─┘
(Text 132013) ----------------------------------------------

Text 132014 (29 lines)
From:     (Bhakta) Hap Camper (Gdansk - PL)
Date:     18-Apr-95 13:07 SST
To:       (Global) Jokes [264]
Subject:  Cyber Glyphics
------------------------------------------------------------

                                         ┌─────────────────────────┐
           ┌───────────────┐     ┌───┐   │Cleo, just do what the   │
   ===$    │I haven't found│     ├o─o┤   │other unhappy brahmacari-│
   ███@    │a  husband     │   ┌─┘   └─┐ │nis do.  Write a letter  │
   ███<  <─┤in more than   │   ├───────┤ │to your G.B.C.           │
   ┌đ┐     │1000 years!    │   ├───────┤ └────────────────────┬────┘
   ├Ď┤)  C │If not Imhotep,│   ├───────┤                      │
 ┌┐│║│   │ │then who? I    │   ├───────┤                      │
 │││╚¤═══O┐│need help with │   └┬──┬──┬┘                      │
 │└┴────┐ ││this problem!  │    ├──┼──┤             ┌─^-^─┐ <─┘
 │      │ │└───────────────┘    ├──┼──┤             │ 0 0 │
 │      ├Ď┘                    ┌┴──┼──┴┐            │= ~ =├────┐
 └──────┘ \                    └───┴───┘            └m───m┴────┘






                          ───────────      ┌────────────────────────┐
                        /             \    │In this case, it means  │
                       /   ───┘└───    \ <─┤Gross Bodily Conception.│
                      / │     []      │ \  └────────────────────────┘
                     /  └┐    ~~     ┌┘  \
                    /    └───────────┘    \
                   ┌──────┐        ┌──────┐
                   │ │  │ │        │ │  │ │
                   └─┴──┴─┘        └─┴──┴─┘
(Text 132014) ----------------------------------------------
Comments: Text 132031 by Premarnava (das) HKS (IC/NE-BBT)

Text 132031 (60 lines)
From:     Premarnava (das) HKS (IC/NE-BBT)
Date:     18-Apr-95 13:35 SST
Refernce: Text 132014 by (Bhakta) Hap Camper (Gdansk - PL)
To:       (Global) Jokes [266]
Subject:  Cyber Glyphics
------------------------------------------------------------
                                #####
                  #######      #**#!!###
                 #**#!!!!##   #****#!!!!#
                #****###!!!#  #*****#!!!!#
                #*******#!!!# #******#!!!!#
                #*********#!###!*!*!*#!!!!!#        --
                #!*!*!*!*!*!#!##########!!!!#      /_
                ###########!##!!!!!!!!!!#!!!#     //__
             ###!!!!!!!!!!!#!!!!!!!!!!!!!#!!!####///  \
   \       ##!#!!!!!!!!!!!#!!!!!!!!!!!!!!!#!!!!!!!#
   _\    ##!!#!!!!!!!!!!!#!!!!!!!!!!!######!!!!!!!*#
    \\  ##!!#!!!!!!!!!!!!#!!!!#######     #!!!!!!***#
  ___\\#!!!###################*****       #...!!*****#
 /   \#!!!.#       ***** #     ***        #....*******#
     #*....#        ***   #              #.......*****#
    #**.....##          *****          ##........!!****#
    #!........##       *******#########......#...!!!!!*#
   #!...........#######.*****...............#.#..!!!!**#
  #*.....##.............#..#...............#...#.!!****#
  #*....#.#............#....#............##......!*****#
  #*.......##.......###......###........#.......!!!****#
  #*.........#######......!!....########.......!!!!!***#
   #!!!.................!!!!!!!!.............!!!*******#
    #!!!!............!!!!!!!!!!!!!!!!!!!!!!!!!!!******#
     #*******!!!!!!!!!!!!!!!!!!!!!!!!!!!!***!!!!*****#
      #******!!!!!!!!!!!!!!!!!!!!!!!!!********!!****#
       ##*****!!!!!!!!!!!!!!!!!!!!!#*************###
         ##****!!!!!!!!!!!!!!!!!!!!!###******####
           ####!!!!!!!!!!!!!!!!!!!!!!!!######!#
               #!!!!!!!!!!!!!!!!!!!!!!!!!!!!!!*#
               #!!!!!!!!!!!!!!!!!!!!!!!!!!!!!***##
              #!!!!!!!!!!!!!!!!!!!!!!!!!!!!!******#
             #!!!!!!!!!!!!!!!!!!!!!!!!!!!!!*******#
            #!!!!!!!!!!!!!!!!!!!!!!!!!!!!!!!!*****#
           #!!!!!!!!!!!!!!!!!!!!!!!!!!!!!!!!!!!**#
          #!!!!!!!!!!!!!!!!!!!!!!!!!!!!!!!!!!!!!!!##
         #!!!!!!!!!!!!!!!!!!!!!!!!!!!!!!!!!!!!!!!!!*##
        #!!!!!!!!!!!!!!!!!!!!!!!!!!!!!!!!!!!!!!!!!!!***#
        #!!!!!!!!!!!!!!!!!!!!!!!!!!!!!!!!!####!!!!!!****##
       #!!!!!!!!!!!!!!!!!!!!!!!!!!!!!!!###****##!!!!******##
       #!!!!!!!!!!!!!!!!!!!!!!!!!!!!!##**!!*****#!!!********#
       #!!!!!!!!#!!!!!!!!!!!#!!!!!!!#***!!!!***!!!!**********#
      #!!!!!!!!!!#!!!!!!!!!#!!!!!!!#****!!!!!*!!!!!!!!!!*****#
      #!!!!!!!!!!!#!!!!!!!#!!!!!!!#*!!***!!!!!!!!!!!!!!!!!***#
      #!!!!!!!!!!!!#!!!!!!#!!!!!!#*!!!!!*!!!!!!!!!!!!!!!*****#
      #!!!!!!!!!!!!#!!!!!!#!!!!!#***!!!!!!!!!!!!!!!!!********#
     #!!!!!!!!!!!!!#!!!!!!#!!!!!#****!!!!!!!!!!!!!!**********#
     #!!!!!!!!!!!!!#!!!!!!#!!!!!#*****!!!!!!!!!!!!!!*********#
     #!!!!!!!!!!!!!#!!!!!!#!!!!!#***!!!!!!!!!!!!!!!!!********##
    ##!!!!!!!!!!!!!#!!!!!!#!!!!!#*!!!!!!!!!!!!!!!!!!!!!*****#!*##
   #!#!!!!!!!!######!!!!!!#!!!!!#**!!!!!!!!!!#########!!!!*#!!**##
  #!#!#!!!!!!#!!!!!!!!!!!!#!!!!!#***!!!!!####******!!!#######!!**#
 #!#!!##!!!!#!!!!!!!!!!!############*!!!#********!!!!!!!!!!!!!!!**#
 #!#!!#!#!!#!!!#!!!!!!!#!!!!!!!!!!!!!!!#***********!!!!!!!!!!!!!!!#
 #!#!!!#!#!#!!#!!!!!!!#!!!!#!!!!#!!!!!#**********!!!!!!!!!!!!!!!**#
 #!!#!!!#!##!!#!!!!!!#!!!!#!!!!#!!!!!!#************!!!!!!!!!!****#
  ######### ##########!!!!#!!!!#!!!!!!#**********!!!!!!!!!!!!***#
                      #################************!!!!!!!!!!**#
                                      #**********!!!!!#########
                                       ###############
(Text 132031) ----------------------------------------------

Text 132027 (32 lines)
From:     Internet: Richard.S.Brown, 
Date:     17-Apr-95 13:49 GMT
Reply-To: richardb@sala.icn.net
To:       (Global) Jokes [265]
Subject:  Golf Jokes
------------------------------------------------------------
PAMHO. AGTSP! DEAR PRABHUS, HERE ARE A COUPLE HARMLESS JOKES OFF IN:

   Moses & Jesus are playing golf. They come to a par 3 with a water trap in
front. Jesus pulls out a 5 iron and Moses says, "Better use a 4 iron that
looks like a nasty water trap." Jesus says, " Na!
I saw Ben Hogan play this hole and he made it with a 5 iron." So Jesus whacks
the ball right into the water, and then starts walking across the water to
retrieve his ball. Some spectator runs over to Moses and asks, "Whose that
guy think he is, Jesus Christ?" Moses replies, "Naw, he thinks he's Ben
Hogan!"

OK, here's one more...

   A man and his wife are playing golf when he hits his ball behind a barn.
The guy's standing there all pissed off when his wife suggests, "It's a
straight shot is we open the doors on both ends of the barn." So they open
the doors, he takes his shot, and it goes high, bounces off the top of the
barn and hits his wife in the head and kills her.

   About a year after this tragedy the guy's playing the same course and gets
his ball into the same position behind the barn. Now he's really pissed! His
buddies suggest he open the barn doors and take a straight shop. But he
replies, "Na! I tried that last year and I shot 3 over par!"

As they say in Vrindavan, "Ram thare maya!" (O Lord, it is all Your
illision!)

A servant of the servants of Srila Prabhupada,
Hrisikesananda das

|  SalaThai Net  *  Bangkok, Thailand  *  postmaster@sala.icn.net  | 

(Text 132027) ----------------------------------------------

Text 132060 (32 lines)
From:     (Bhakta) Hap Camper (Gdansk - PL)
Date:     18-Apr-95 14:51 SST
To:       (Global) Jokes [267]
Subject:  Cyber Glyphics: Peaches and Scream
------------------------------------------------------------




                                  ==?==   ┌─────────────┐
                                  █@ @█   │AUUUGHH! It's│
                                  █ o █ <─┤that awful   │
                            C   Í─┐   ┌─Ě │Khepher!  I  │
                            │   ă┐└───┘┌ │HATE BUGS!!  │
 ┌────────────────────┐     O═══╝└┐   ┌┘║ Ă═════════════┴───────────┐
 │My lady Cleopatra,  │     │    ┌┘   └┐║ │C'mon, Cleo. He's showing│
 │'tis I, your secret │          │     │) │his pest┌───────────┬────┘
 │admirer for many,   │          │     │  │manners!│ ┌─^-^─┐ <─┘
 │many centuries.     ├──┐       │     │  └────────┘ │ 0 0 │
 └────────────────────┘  │       └─Ď─Ď─┘             │= ~ =├────┐
                 OQQR <──┘        /   \              └m───m┴────┘






                          ───────────      ┌────────────────────────┐
                        /             \    │See why these Egyptian  │
                       /   ───┘└───    \ <─┤entities have to stay   │
                      / │     []      │ \  │in the material world   │
                        └┐    ~~     ┌┘  \ │millenia after millenia?│
                    /    └───────────┘    \└────────────────────────┘

                   ┌──────┐        ┌──────┐
                   │ │  │ │        │ │  │ │
                   └─┴──┴─┘        └─┴──┴─┘
(Text 132060) ----------------------------------------------

The name of the conference is: (Global) Jokes

Text 132177 (10 lines)
From:     Dhyanakunda (dd) KKD (NE-BBT Polish)
Date:     18-Apr-95 19:57 SST
To:       (Global) Jokes [268]
Subject:  message from the Sacred Crocodile
------------------------------------------------------------
                  / \__/ \              _
                 |  0   0)  ============ )
                          <><><><><><><>
 ~  ~  ~  ~                                     ~  ~  ~  ~



Cleo, why not go for Pamhotep? That would of course be pratiloma,
but we Egyptians are just an Aryan offshoot any way, so what can be
expected. Unless you really want some stinky Roman...
(Text 132177) ----------------------------------------------
Comments: Text 132243 by (Bhakta) Hap Camper (Gdansk - PL)

Text 132243 (7 lines)
From:     (Bhakta) Hap Camper (Gdansk - PL)
Date:     18-Apr-95 21:45 SST
Refernce: Text 132177 by Dhyanakunda (dd) KKD (NE-BBT Polish)
To:       (Global) Jokes [269]
Subject:  message from the Sacred Crocodile
------------------------------------------------------------
Just getting this note into Glojo on the fly.  I'm in the process of being
abducted by some Grays.  Cleo was advised by the Sphinx that since
marriages are made in heaven anyway, she might as well just wait til the
next life.  She's a pious girl, sure to make it up there after she dies in
a few centuries.  So, all bets are off.  She's decided to stay
brahmacarini.  As for me ... gotta fly!

(Text 132243) ----------------------------------------------

Text 132267 (6 lines)
From:     LINK: Krsna Priya (Dasi) MG (Potomac, MD)
          
Date:     18-Apr-95 13:54 EDT
Refernce: Text 132031 by Premarnava (das) HKS (IC/NE-BBT)
To:       (Global) Jokes [270]
Subject:  Cyber Glyphics
------------------------------------------------------------
Boy is this conference getting more and more "interesting" every day! Very
active and "unique" (to say the least) imaginations involved here! 

(-:


(Text 132267) ----------------------------------------------



ę 2003 - 2019 Suhotra Maharaja Archives - Vidyagati das